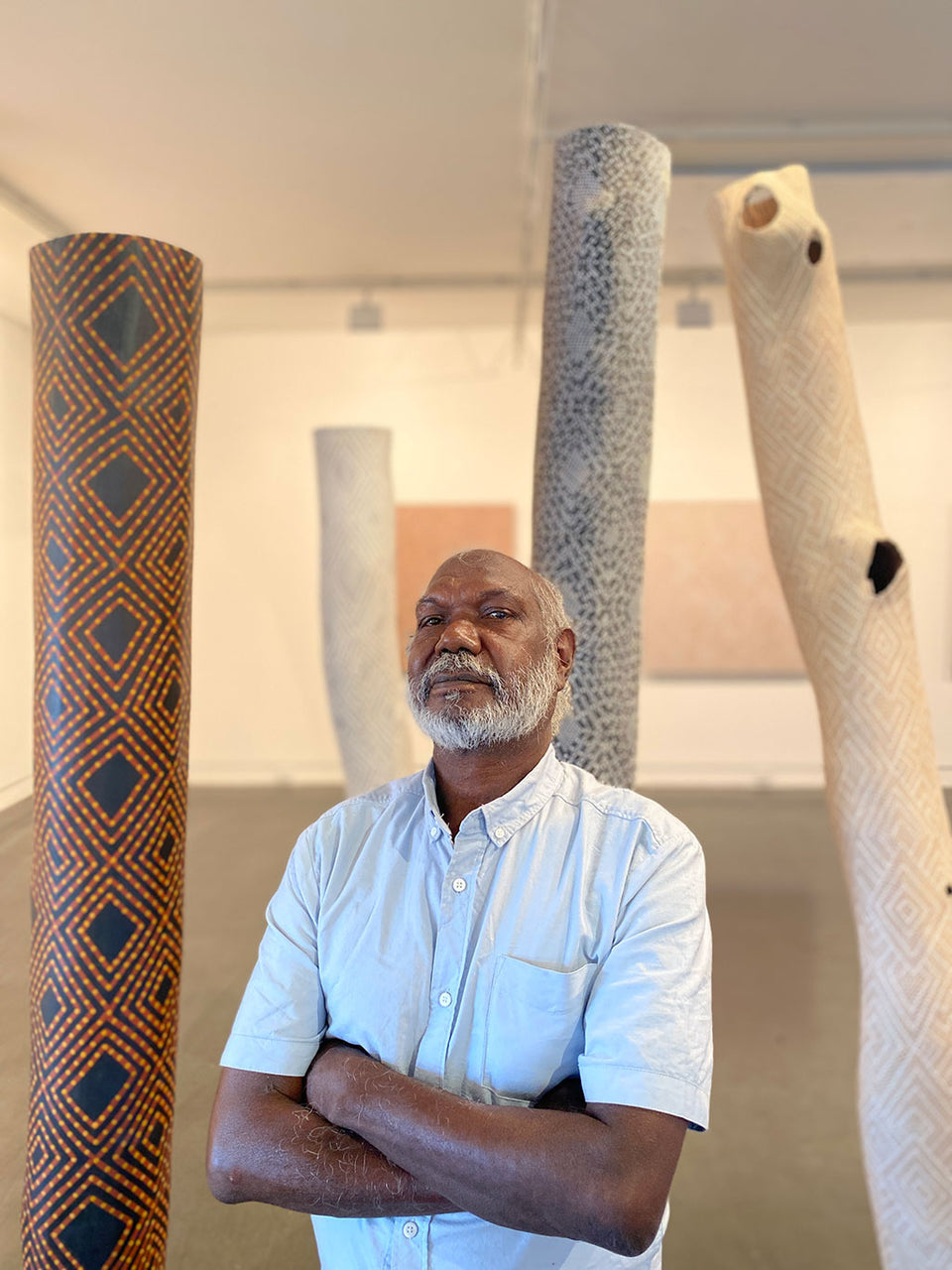 Hugo Michell Gallery welcomes the addition of Garawan Wanambi to our represented artists!
Born in 1965, Garawan Wanambi belongs to Marrakulu clan and works out of the Buku-Larrnggay Mulka Centre in Northern Arhem Land.
After his father's death in 1973, Garawan was brought up by Wayuŋga Wanambi of the Marraŋu clan. Through this connection, Garawan paints Marraŋu designs, the counterpart of Marrakulu from the other side of Arnhem Bay. Garawan and his family continue to live and work at Gängan, to the south of Yirrkala, and he has emerged as one of the most gifted of the new generation of artists based there.
Garawan extends the history and practice of Yolŋu painting. Whilst continuing to use natural pigments and miny'tji (sacred clan designs), he extends the possibilities of these methods through the mixing of natural pigments to form unique colours and deliberate tonal variations. His precise geometry and complex layering of designs create a depth of field on an otherwise flattened surface and a mesmerising optical effect. In doing this, Wanambi explores the Yolŋu concept of Buwayak ‒ simultaneously making elements both visible and invisible.
He was a finalist in the Telstra Art Prize in 2009, 2014, 2020, and a finalist in the Kate Challis RAKA Award in 2013. In 2014 he was awarded the National Aboriginal and Torres Strait Islander Art Award Best Bark painting prize.
Garawan has works held in a number of significant collections; Kerry Stokes Larrakitj Collection, The Kluge-Ruhe Aboriginal Art Collection (USA), Art Gallery of New South Wales, Charles Darwin University Art Collection, Artbank, Art Gallery of South Australia, National Museum of Australia, Monash University Art Museum Collection. His works are also held in private collection both nationally and internationally.