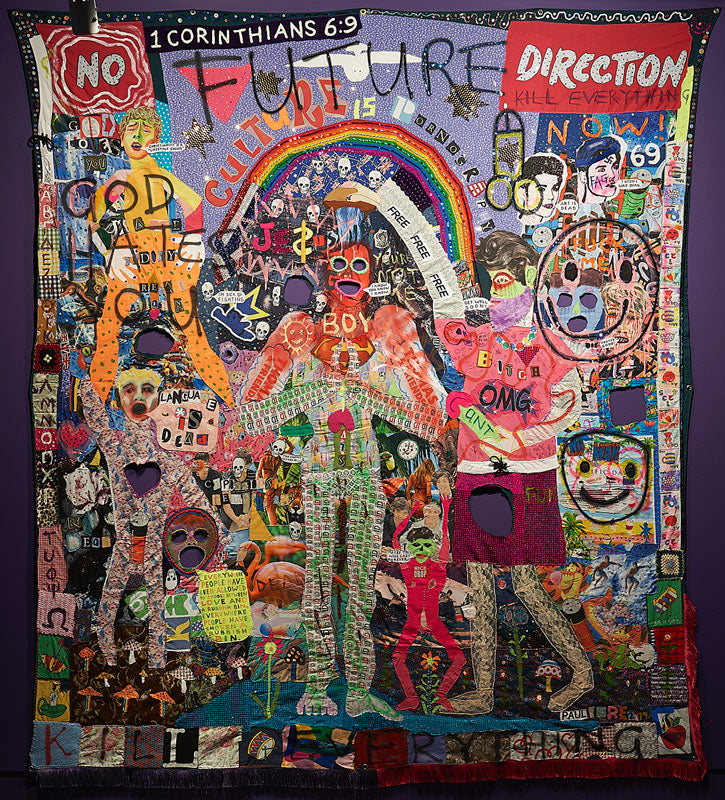 Hugo Michell Gallery invites you to the opening of Paul Yore's 'Crown of Thorns' and Clara Adolphs' 'In Between Days' on Thursday 6th February 6-8pm.
Gippsland-based artist Paul Yore's solo exhibition 'Crown of Thorns' brings together new textiles, assemblages and collages, continuing the artist's decade-long personal and candid investigation into the intersection of religion, sex, politics and popular culture. Taking its title from a passage in the Gospel of Mark in which Jesus is mockingly dressed in purple and adorned with a crown of twisted thorns, Yore's exhibition readily draws upon the iconography of his Catholic upbringing, most notably the cross or crucifixion. However, Yore's irreverent treatment of traditional subjects is laced with a queer critique of the foundational institutions of "Western" society; specifically the moralising presence of a corrupt Church, and its role in propping up a broken political system, a dynamic which in turn has fueled centuries of colonial violence, as well as the subjugation of women, trans and queer people.
—
"Bundanoon-based artist Clara Adolphs is becoming somewhat of a fixture in the art prize and award circuit. An Archibald finalist in 2016 and 2019, and collecting the 2017 Eva Breuer Travelling Art Scholarship, the artist mines an archive of castoff vintage photographs to make works that contemplate the passing of time and the universality of small moments.
To capture her anonymous, enigmatic subjects, Adolphs turns to a palette knife and brush, working quickly with thick impasto paint in a kind of performance that reimagines and replays the lost moment within the photograph's frame." – Varia Karipoff (via Art Guide)
Please join us in celebrating the launch of our first exhibitions for 2020!
Exhibition runs until FRIDAY 6 March.
Hugo Michell Gallery acknowledges the Kaurna people as the traditional custodians of the Adelaide region, and that their cultural and heritage beliefs are still as important to the living Kaurna people today.