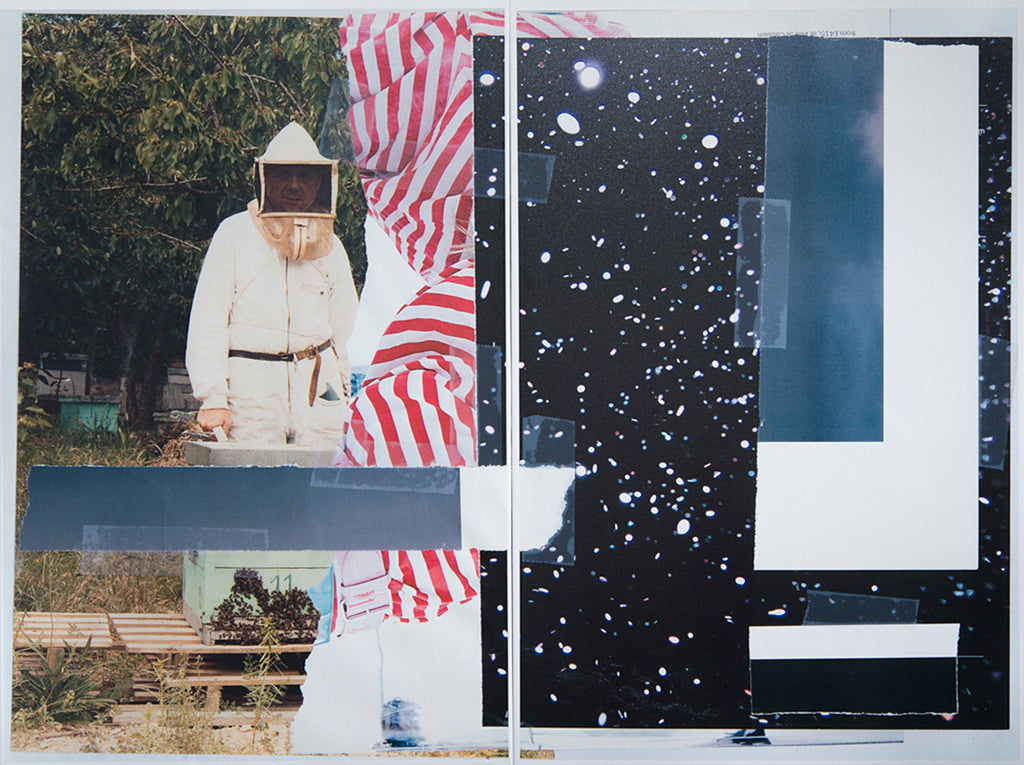 Hugo Michell Gallery invites you to the opening of Paul Sloan's If it keeps on raining the levee's gonna break and Pepai Jangala Carroll's Ngayulu anu ngayuku mamaku ngurakutu, on Thursday, September 14 from 6pm.
In If it keeps on raining, the levee's gonna break, Paul Sloan shatters the prison cells of space and time, creating new possibilities, surreal juxtapositions, and dissident commentaries. Sloan's latest body of work exploits the inherently disruptive and non-linear potentials of collage, while cleverly traversing the realms of drawing and printmaking.
Representing more than 3 years of extended exploration, these works play into a rich field of practice that was established in the twentieth century by heavy-hitting luminaries such as Georges Braque, Pablo Picasso, Hannah Hoch, and Richard Hamilton. In these large-scale works, Sloan creates new spaces for contemplation. He invites unexpected things, people, and events to coalesce, allowing juxtapositions and commentaries to arise that are sometimes serious, sometimes tongue-in-cheek, yet always profoundly subversive and aesthetically powerful.
—-
In Pepai Jangala Carroll's new body of work, Ngayulu anu ngayuku mamaku ngurakutu, the artist has retraced his father's story, reconnecting with his homeland. Translating as 'I went home to my father's country', the exhibition summons notions of personal heritage and belonging. Carroll travelled back to his custodial country in April 2017, having left this region as a 19-year-old after his parents passed away. Pepai has spent the last 40 years living and working in Ernabella. On this recent trip he travelled with fellow Ernabella artist Derek Jungarrayi Thompson to visit sites between Kintore, Kiwirrkura, and Lake Mackay (Wilkinkarra). Concerned with passing on this new knowledge and experience, the results are profound and sensitive.
"I've gone home! I've followed my father's footsteps back to his country to Ilpili, Walungurru, Ininti, Kiwirrkura, Wilkinkarra and Yumari. Now I'm going to tell that tjukurpa. It's a big one!"
TARNANTHI: Festival of Contemporary Aboriginal & Torres Strait Islander Art
Please join us in celebrating these two brilliant exhibitions on September 14!