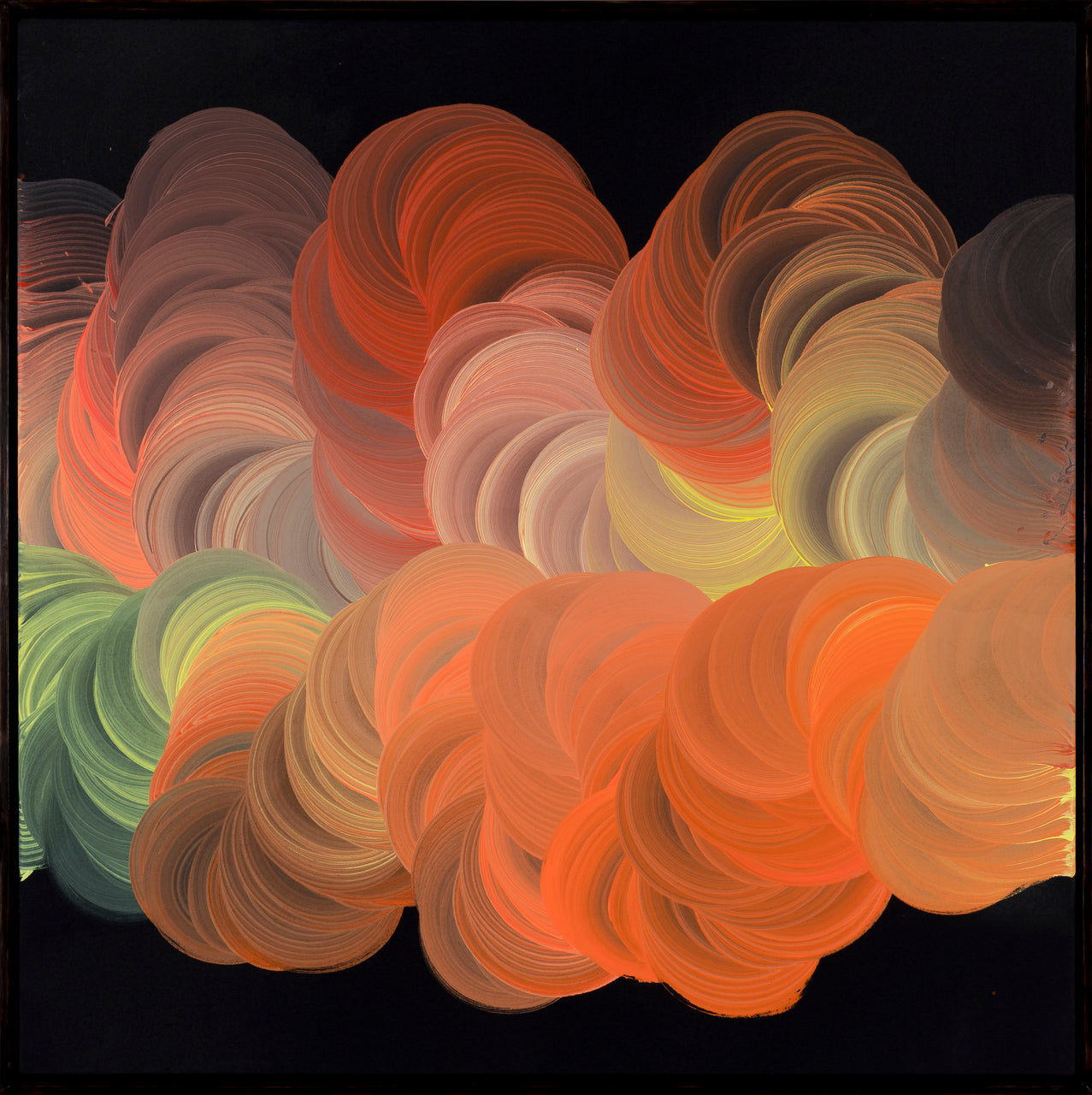 Hugo Michell Gallery invites you to the opening of James Dodd's 'Miller' and Nawurapu Wunuŋmurra's 'Mokuy'.
The miller is a person who operates a mill, a machine traditionally employed to grind cereal into flour. Milling is one of the oldest human occupations. The mill, in essence, is any machine that processes materials via rotational grinding, crushing or cutting. Mills operate to serve a range of industries and outcomes – in this case -the mill is used to facilitate painting.
James Dodd's thumbs have been busy operating the joysticks of a remote controller sending signals to a range of cordless drills variously attached to a kind of cobbled together gantry comprised of an old bicycle, roller blades and a variety of aluminium and timber pieces. This is the Painting Mill. Dodd has been working his Painting Mill project through a range of outcomes and presentations over recent years, experimenting with approaches and applications, developing an intimacy with his machine and it's range of lurches and oscillations. His thumbs correspondingly channel accumulated and inherent understandings of painting substrates, pigments, mediums, viscosity, velocity and momentum.
—
Nawurapu Wunuŋmurra present's his latest body of work 'Mokuy'.
"The mokuy or nanuk (spirits) come in together, Dhuwa and Yirritja to the sacred ground called Balambala, past Gangan, the other side for all the mokuy to get together. The spirits go there and that's where they make the yidaki sound. It's like showing Yukuwa (sacred yam emblem) and Morning Star feathers – they are different. Like same goes with yidaki, different sounds for Yirritja and Dhuwa. The Yirritja and Dhuwa play yidaki to call in the Mokuy to the same ground Balambala. The Yirritja mokuy come in on the birds, djilawurr (scub fowl) and bugutj-bugutj (banded fruit dove). The Dhuwa mokuy they come in from rangi side (saltwater)."
Please join us in celebrating these two artists and their latest exhibitions on the 22nd of March!