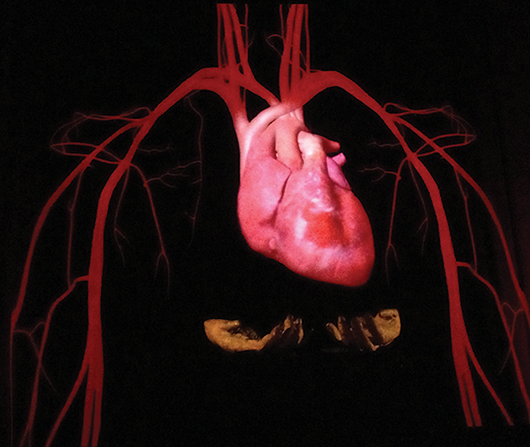 Lisa Roet 's Heart Beat is now exhibiting at the Australian Experimental Art Foundation, until 2 April.
Berlin-based Rachel Vance writes in the catalogue: "Her large-scale, theatrical projection Heart Beat (2014-16) confronts audiences with an enlarged three-dimensional projection of a human heart. The mesmerising accompanying soundtrack—a collaboration with musician Charlie Owen—echoes the pulsating beat of the heart, drawing gallery visitors into the depths of a simulated corporeal cavity.
Heart Beat is an example of Roet's fascination with ideas of isolation and comparison. The animated heart, created with cutting-edge Musion technology—a three-dimensional holographic technology—is in fact a simulation of a hybrid heart. Animated by science animator Drew Berry, the image itself, derived from echocardiogram and MRI footage of the artist's own heart, is imperceptibly amalgamated with imagery from a gorilla's heart. Part animal, part human. The gorilla footage was sourced from a research team studying heart health as part of the International Primate Heart Project at Cardiff University in Wales. Such comparative exploration relates directly to Roet's previous examination of the 'humanzee'; a hypothetical interspecies human-chimpanzee hybrid."
Heart Beat is accompanied by a second installation, We Are Animal, part of the result of the artist's ongoing collaboration with leading Chinese artist Shen Shaomin.
Read more from Vance on Roet and view the catalogue here.
This project has been supported by The International Primate Heart Project based at Cardiff Metropolitan University, Arts Victoria, Melbourne Heart Care and the Adelaide Festival of Arts.