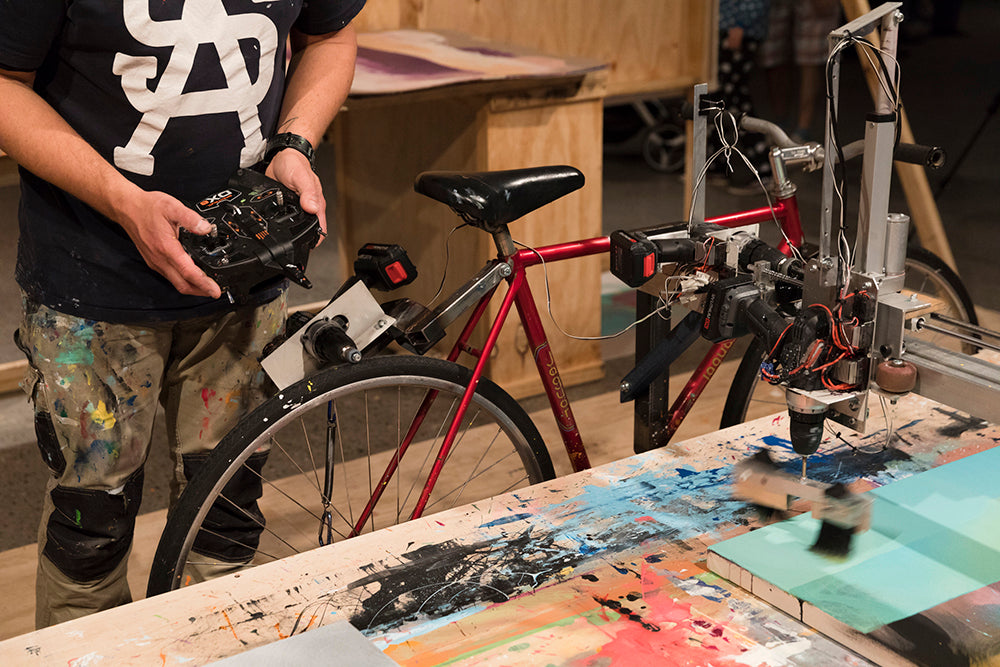 Country Arts South Australia has partnered with numerous regional galleries to present Shed Wizard, a touring exhibition by James Dodd. In partnership with Tatiara District Council, Shed Wizard will launch at Walkway Gallery in Bordertown on Saturday, July 1, and will run until August 26. Dodd will exhibit his Painting Mill project as part of the touring exhibition, with a demonstration at Walkway Gallery at 11am on July 2.
This exhibition presents a range of recent outcomes from James Dodd's exploratory practice. Dodd is an artist who celebrates cultures of DIY and life-hacking, a result of his upbringing in the 'make-do' context of an agricultural childhood.

Dodd applies radical curiosity and invention to investigations of public space, and plays with the idea of fantastic tools and the backyard as in important place to make art. A sense of adaptation and hybrid invention is especially present in his recent bicycle sculptures and art-machines.

Having spent a large period of time immersed in Australia's street art movement of the early noughties, Dodd pursues a practice that borrows graffiti for gallery outcomes, and hijacks conceptual pursuits for application at the edges of society.

In Shed Wizard, Dodd presents vivid paintings, unusual bicycles, strange machines, and candid videos. The exhibition brings this range of objects together to examine Dodd's trajectory over the past decade or so, and examines ongoing themes such as notions of social and political resistance, adventure and risk, and the hand-made contraption as a magical art device.
Shed Wizard tours to the following galleries on the following dates:
Walkway Gallery, Bordertown, from July 1 to August 26