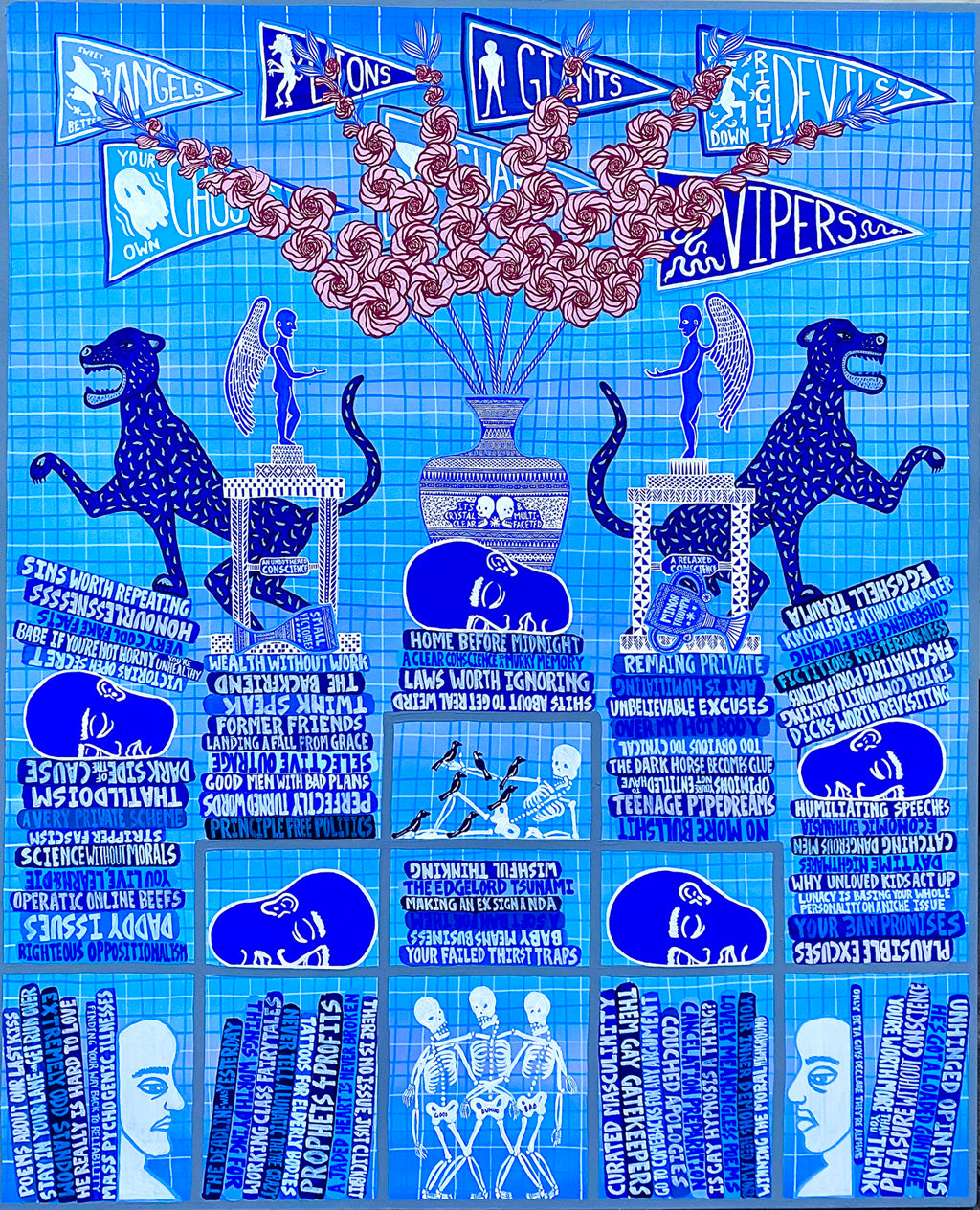 Hugo Michell Gallery invites you to the opening of 'CABINETS' by Lucas Grogan and 'The Gleaners' by Paul Sloan on Thursday 16th March, 6-8pm.
_____
Lucas Grogan
CABINETS
In 'CABINETS', Lucas Grogan takes the exhibition's namesake as a starting point. Rather than the usual contents found in medicine cabinets, "good rooms" and libraries, his cabinets of are filled with an unreal assortment of things we need, things we want and things we can't forget.
Some Cabinets operate like portraiture; collections that combine the aspirational and impossible with the low brow and familiar. Others like time-capsules, whereby every book title is a competing and conflicting element of the zeitgeist. Or like THE TEST, a combination of both, where the viewer must collect and follow their own thoughts, feelings and experiences to an ultimate resolution. They're introspective, private and showy all at once.
Newcastle based Lucas Grogan's distinctive visual language has developed over the years to coalesce into his recognisable style. He uses painting, drawing, needlepoint and installation to explore themes of isolation, inclusion and cultural collisions, through an autobiographical lens. His works are interwoven with dry wit and a piercing sense of humour
_____
Paul Sloan
The Gleaners
Paul Sloan's 'The Gleaners' takes its name from Jean-Francois Millet's controversial 1857 painting. Sloan—a veteran gleaner of scenes himself—presents a collection of images spring loaded with meaning, which reflect on how we look back in order to look forward.
Frankenstein's monster is imagined within social media. Protest placards of 1960s counterculture morph with self-help slogans. A classical bust recalls an ancient oracle. A turtle carries a soldier's helmet on its back, alluding to the collateral damage of war. A black cat strides forward purposefully, in defiance of the message painted on its side.
In 'The Gleaners', Sloan reflects on the cyclical tropes and techniques we use to navigate impending crisis. Rich with the symbolism and seductive graphic impact that are the hallmark of his work, Sloan's beguiling images provide poetic and prophetic insights for our time.
_____
Hugo Michell Gallery are proud to partner with Bird in Hand Winery for this opening event.
Please join us in celebrating the launch of these two exhibitions!
Hugo Michell Gallery acknowledges the Kaurna people as the traditional custodians of the Adelaide region, and that their cultural and heritage beliefs are still as important to the living Kaurna people today.
Paul Sloan, The End, 2023, Gouache on paper (unframed), 55 x 76 cm