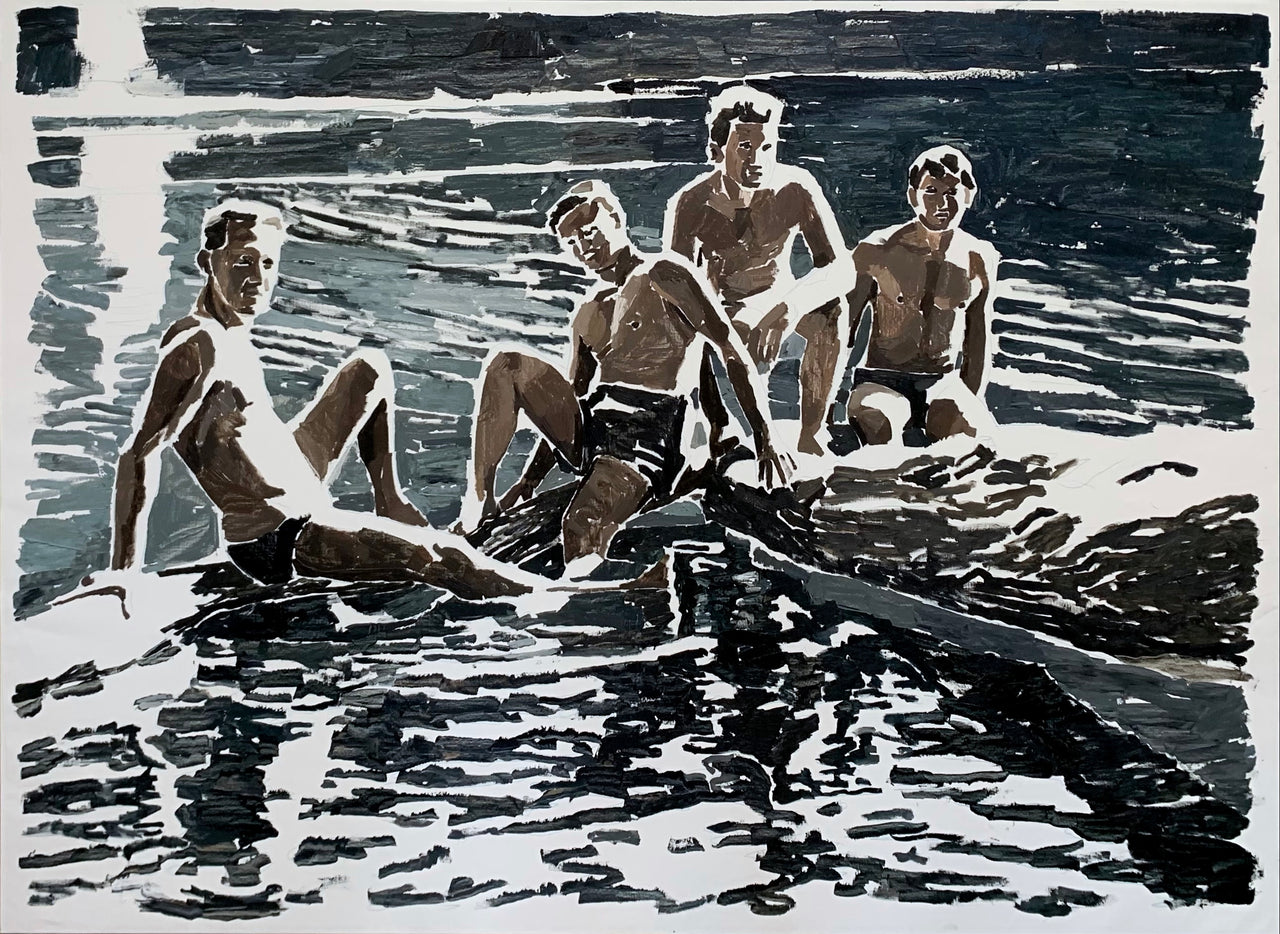 Hugo Michell Gallery invites you to the opening of 'Silent Reply' by Clara Adolphs and 'Heist' by Ellis Moseley on Thursday 16th March, 6-8pm.
_____
Clara Adolphs
Silent Reply

"I like to think that everything exists all at once. Or everything that has existed, still exists. My objective is to make these photographs alive, now. I ask the question, what is the truer evidence of time, the photo or the painting?" – Clara Adolphs

Adolphs draws upon discarded and found photographs which, by their very nature, represent a medium that is infinitely reproducible. And yet, each photograph embodies the 'truth' of a specific moment in time. Adolphs continues this process in her studio practice; remaking a painting from a singular image over and over to capture the essence of the moment in time that the photograph was taken.

In 'Silent Reply', Adolphs paintings each have a 'pair' or 'partner' to question the idea of the original and the copy, and how meaning is carried or obscured through repetition. In confronting this dilemma, she refers to historian Roland Barthes, who posits that "perhaps we have an invincible resistance to believing in the past, in History, except in the form of myth. The Photograph… puts an end to this resistance: henceforth the past is as certain as the present, what we see on paper is as certain as what we touch."

If photography is a 'certificate of presence', then we might consider every one of Adolphs' paintings as a similar record of presence. Through the work, she imagines a new landscape - a record of life.
____
Ellis Moseley
Heist

'Heist' presents an experimental and conceptual project that features exquisitely formed ceramic vessels and wall pieces. Whilst valuing the important aesthetic considerations of the object, this exhibition is part of Moseley's ongoing research to test the limits of what an artwork can be.

Moseley's assigns individual consciousnesses to the vessels in the gallery. The vessels themselves are not considered by the artist to be the work, but simply an anchor for the artwork, a physical object that accompanies the metaphysical artwork. Functioning much in the same way a church or temple does as a physical place for the consideration of metaphysical (non-physical) things.

'Heist' invites the viewer to examine what it is exactly he is claiming, through examining the nature of their own consciousness/inner awareness and perhaps that of the person standing next to them in the gallery.

The exhibition 'Heist' has been supported by the Helpmann Academy through a Creative Development Grant awarded to Ellis Moseley.
____
Hugo Michell Gallery are proud to partner with Bird in Hand Winery for this opening event.

Please join us in celebrating the launch of these two exhibitions!

Hugo Michell Gallery acknowledges the Kaurna people as the traditional custodians of the Adelaide region, and that their cultural and heritage beliefs are still as important to the living Kaurna people today.



Selected work by Ellis Moseley, 2023