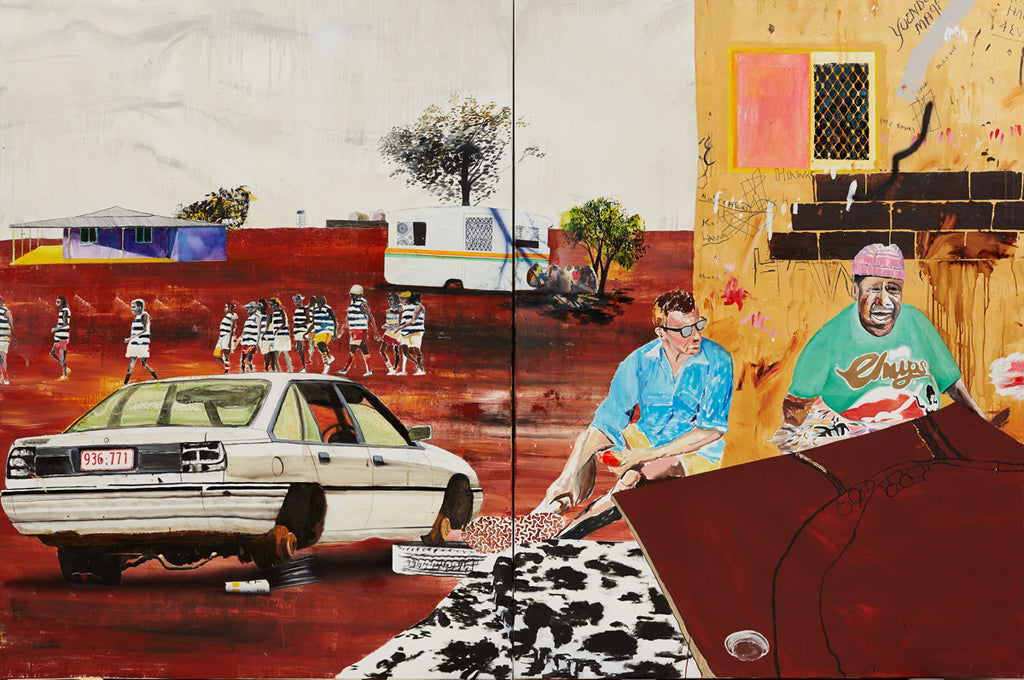 Hugo Michell Gallery invites you to the opening of William Mackinnon's 'The Lucky Country?' and Min Wong's 'Born to give not to get'.
Spending two years between 2008 and 2010 in the Kimberley and Central Australia, William Mackinnon states that the timing of this experience helped him to 'find his own voice as an artist'.
Having previously spent over a decade within an educational and institutional setting, studying at the University of Melbourne (2000), Chelsea School of Art and Design (2006) and completing his Masters at the Victorian College of the Arts (2008). It was the Marten Bequest Travelling Scholarship (2008), which afforded him the opportunity to spend time away from formal education.
Mackinnon began the two-year Marten Bequest Travelling Scholarship, by spending twelve months in the Kimberley region of Western Australia firstly as artist in residence at Mangkaja Arts, Fitzroy Crossing. In 2010 he moved to Central Australia working as a field officer for Papunya Tula Artists. Before this time, Mackinnon was working, learning, collecting, growing up, building an extensive language and refining his skill. Keen to explore and experience a wider Australia, Mackinnon began this self-directed time with senior Indigenous artists to further an understanding and appreciation of Country and culture.
In his latest series 'The Lucky Country?' Mackinnon revisits this significant period of time after a number of years living abroad. An extended period of absence has allowed him an interval to reflect and reconnect with lessons lived with for a decade.
—
Min Wong appropriates material culture from 1970's to revisit this significant era of spiritual countercultures and the mash up of Eastern and Western mysticism. Writer Eric Davis describes this phenomena as the 'modern esoteric', a combination of anthropology and mystical pulp, between cultural criticism and extraordinary experience. More recent tendencies of contemporary spirituality is the self-help and therapeutic culture spawned from the ideology of the 'New Age' and its dogma practice that spiritual enlightenment comes from the self rather than the radical collective. By looking back to investigate utopian elements of previous eras, Min's practice seeks to explore ways of understanding the contemporary esoteric and examine the illusory hopes, desire, failure and authentic search for meaning in the contemporary dystopic.
'Born to give not to get' examines the commodification of the spiritual self through high performing branding and prescriptive spiritual accessories such as yoga, activewear and affirmative phrases. The installation sits inside an 'interior', referencing gym equipment and athletic apparatus' appropriating tropes of the self care industry. In its genuine state, self-care can be a defiant act for social justice, a holistic approach that includes emotional, mental and spiritual fulfillment that also supports the utopian collective. This exhibition examines this contemporary dilemma.
Please join us on Thursday the 18th in celebrating these two incredible exhibitions!