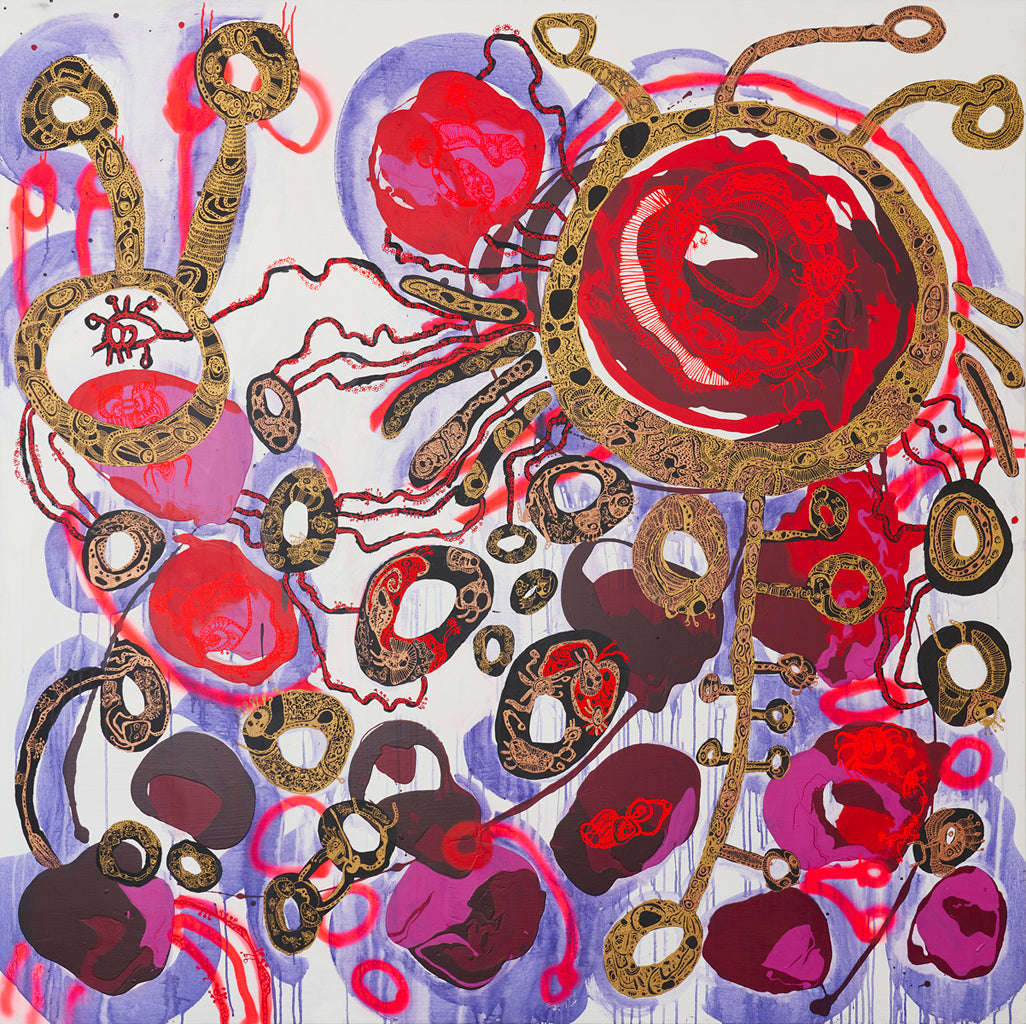 Hugo Michell Gallery invites you to the opening of 'Quiet of day' by Bridie Gillman and 'Kuwari – Now' by Zaachariaha Fielding on Thursday 16th of June, 6-8pm.
_____
Bridie Gillman
Quiet of day
Quiet of day has been made in response to a feeling. Each work draws from a specific moment where artist Bridie Gillman experienced a sense of letting go, of calm rushing over her, of exhaling out the day and breathing in the sky. This often happens as the sun is setting, and the trees have become silhouettes in the liminal time between the sun and the stars.
The paintings are not a representation of a site, but they are based on seen things – skies, hills, gums. They translate an emotional sense of the place through abstraction, layers of colour and considered brushstrokes.
This process of abstracting what Gillman sees has extended into a series of ceramic sculptures that sit alongside the paintings. Distinctive forms taken from different sites – silhouetted rocks and hills – act as the starting points for these objects.
_____
Zaachariaha Fielding
Kuwari – Now
Kuwari – Now is Zaachariaha Fielding's first solo exhibition, proudly presented by Hugo Michell Gallery.
Fielding is a multi-disciplinary art originally from the Mimili Community in the Aṉangu Pitjantjatjara Yankunytjatjara Lands, currently working out of the APY Collective on Kaurna land/Adelaide. Having established himself as a critically acclaimed musician, the frontman for duo Electric Fields, Fielding is compelled to create art in whichever form is available to him.
His creative and cultural spirit lays bare the constellations of his emotions, memories and experiences in his artworks. About his work, Fielding shares: "I was raised on desert country in the eastern Anangu Pitjantjatjara Yankunytjatjara Lands, and come from a long line of multi-disciplinary artists. I am compelled to make work that honours the visual language of my ancient culture. The iconography reflects the way I live my culture in the present, as a constant feature of my world, and visualises how I interact with the beings that populate the Tjukurpa I've inherited."
_____
Please join us in celebrating the launch of these two exhibitions!
Hugo Michell Gallery acknowledges the Kaurna people as the traditional custodians of the Adelaide region, and that their cultural and heritage beliefs are still as important to the living Kaurna people today.
With deep gratitude Bridie Gillman acknowledges that the works in this exhibition have been made in response to experiences on Turrbal, Yuggera, Bundjalung and Gumbaynggirr Countries.