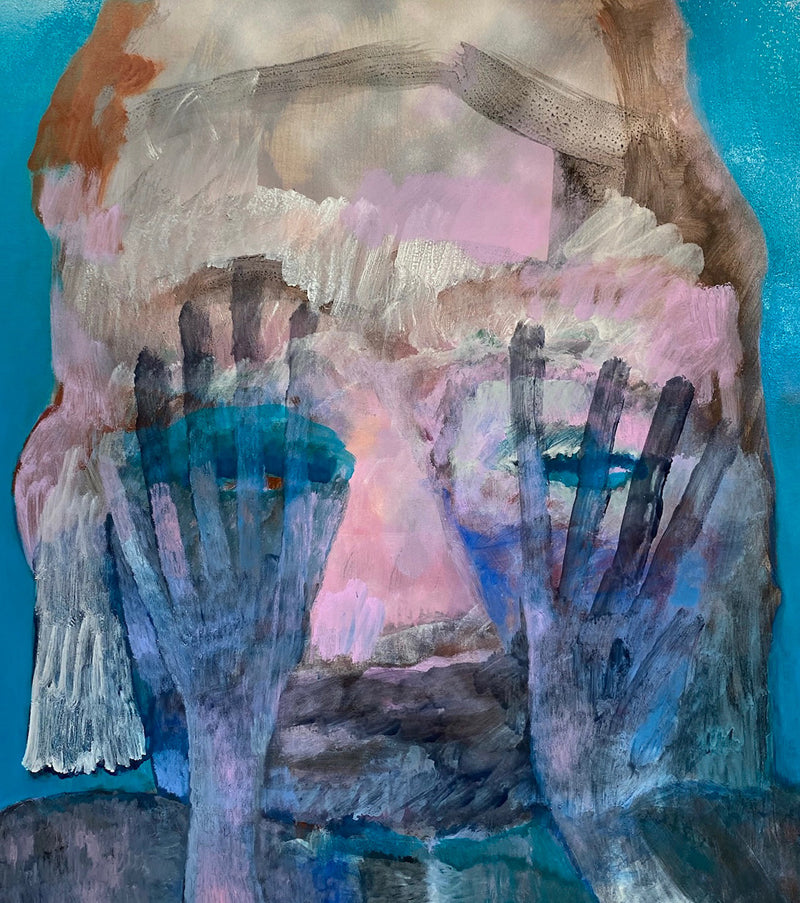 Hugo Michell Gallery invites you to the opening of 'Tempest' by Sally Bourke and 'Primordial' by Jess Taylor
*Please note*
– If you wish to join us for a staggered opening at either 6pm or 7pm, RSVP IS ESSENTIAL to mail@hugomichellgallery.com
– Due to the current government restrictions visitors are required to wear a mask
_____
Sally Bourke
Tempest
"A tempestuous noise of thunder and lightning heard."
– Act 1, Scene 1, The Tempest, William Shakespeare, 1607-1611
Sally Bourke's 'Tempest' is about love, loss and weathering the storm. In the same way that Shakespeare plunged his audiences into the tempestuous eye of the storm in his 17th Century play, Bourke draws viewers into a deep storm of her own making. Torrential rain falls across sullen faces and mingles with tears; Bourke's paintings evoke emotions that are as mercurial as the stormy weather her figures are situated within. Through the alchemy of painting, Bourke emulates water's seemingly magical power of transmutation and invites us to enter the tempest and emerge transformed.
_____
Jess Taylor
Primordial
     Primordial /prʌɪˈmɔːdɪəl/
adjective
1. existing at or from the beginning of time; primeval.
2. basic; fundamental.
Jess Taylor's 'Primordial' is borne out of a mining of personal experience. About the work Jess shares: "It's human nature to want to see ourselves in the experiences of others, just as its human nature to offer others the chance to see themselves within us. At our core we become great excavators, digging with eager fingers to pull out fragments of ourselves, polishing their surfaces until others might see themselves reflected in their facets". This body of work unravels deep but innately human fears and experiences, shrouded by the symbolism and myth of Jess's oeuvre.
_____
Hugo Michell Gallery acknowledges the Kaurna people as the traditional custodians of the Adelaide region, and that their cultural and heritage beliefs are still as important to the living Kaurna people today.