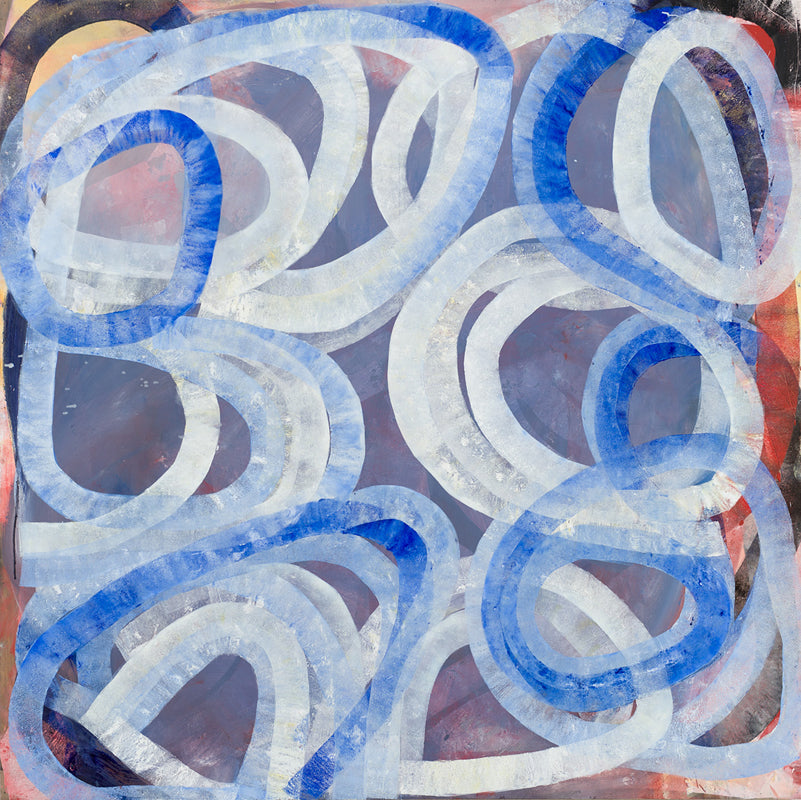 Hugo Michell Gallery invites you to the opening of Ildiko Kovacs' 'Both Ways' and Gerry Wedd's 'Pot Songs'.
ldiko Kovacs' abstract works revel in the rich and sumptuous possibilities of paint and its ability to evoke different thoughts, emotions, and sensations. Across the course of her career, Kovacs has created paintings that are intuitive and raw, the result of a process of experimentation, and of applying and removing pigment until a sense of cohesion is achieved. Working directly…without a preconceived outcome, painting for Kovacs is process-driven and instinctive – an "intuitive line of thought or belief". Her practice over 40 years has been shaped by a series of artistic shifts and developments that, as she says, are "somehow always connected with what is happening in my life."
– Megan Robson
Kovacs' early career 'void' paintings were succeeded by her experimentations with reintroducing forms to the pictorial space. These abstracted forms coalesced into lines, structured and fluid. In recent years, Kovacs has worked with wide, rolling lines that twist, turn, curve, and loop over themselves. In 'Both Ways', Kovacs presents four such works. In contrast, Kovacs also presents ply-mounted works on card in which her gestural line narrows, sharpens, and becomes almost sculptural, carving through the two-dimensional space. In both styles, Kovacs draws on abstract expressionism's focus on process and gesture in mark-making, as she builds up, excavates, and builds again thick layers of lines and shapes which follow the movements of her body as she works. From the process-based similarities and the drastically different styles of the works in 'Both Ways' emerges a dialogue about line and gesture, colour and movement, and internal and external landscapes.
Since the 1980s, Kovacs has exhibited extensively both nationally and internationally, and has the recipient of major awards including the Bulgari Art Award in 2015. Her work is held in major national and international collections, including the National Gallery of Australia, the Museum of Contemporary Art Australia, the National Gallery of Victoria, the Art Gallery of New South Wales, Artbank, and the World Bank.
–
Gerry Wedd is a South Australian artist known for his ceramics as well as his long-term contribution to the iconic Mambo brand, beginning in the late '80s and ending in 2006. Wry and witty, his classical ceramic forms draw on surf culture, politics, and cult music in their surface decoration. Blue and white willow pattern plates might sport the face of Paul Kelly or Dolly Parton, or barrelling surf à la Hokusai.
– Varia Karipoff
In 'Pot Songs', Wedd presents a series of ceramic works he views as fan art, or suburban folk art, in that they are homages to their subjects. Wedd sees the works as covers – as tributes of a sort, but more importantly, as reinterpretations, that, like musical covers, focus on the lyric content, melodic aspect, or rhythm of the original. Wedd pays homage to the sources of the images, text, and lyrics that adorn his vessels, but also pays homage to the canon of his chosen medium, as he engages with and subverts its traditions.
Wedd has exhibited widely both nationally and internationally, including at the Victoria and Albert Museum, the Havana Biennial, the JamFactory, and the Ian Potter Museum of Art. He has been the recipient of several major awards, and is held in private and major public collections across the country, including the National Gallery of Australia and the Powerhouse Museum.
Please join us in celebrating the launch of these two incredible exhibitions!
Hugo Michell Gallery acknowledges the Kaurna people as the traditional custodians of the Adelaide region, and that their cultural and heritage beliefs are still as important to the living Kaurna people today.