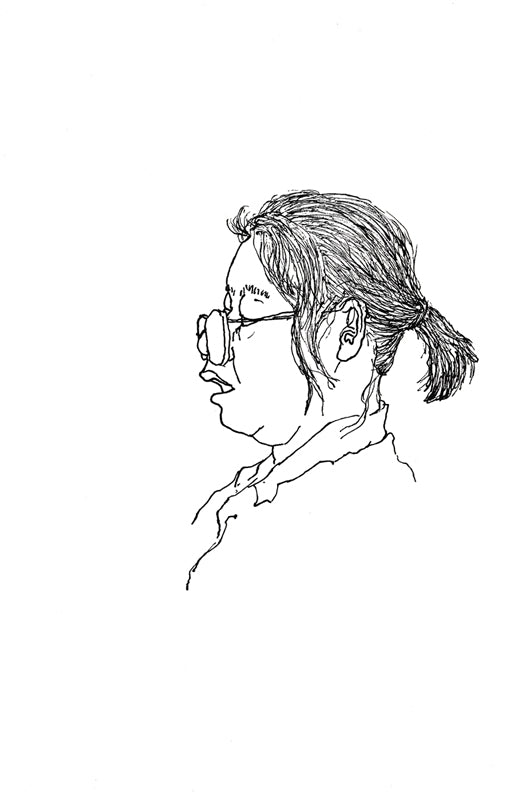 Hugo Michell Gallery invites you to the opening of Amy Joy Watson's 'Super Natural Geologies' and Grant Parke's 'Every Person on the B10 Bus' on Thursday August 1, 6- 8pm.
In 'Super Natural Geologies', Amy Joy Watson's shimmering embroideries and rainbow wire hills reimagine utopic landscapes, moving beyond the natural world as we know it. The geometric quality of these threaded surfaces references the artist's earlier sculptural works, with spatial planes and strata described by directional lines of thread. During a trip to Arkaroola, Watson was struck by how ancient the landscape was – commonly thought to hold the earliest examples of life on earth. Having grown up believing that the earth was only 6,000 years old, and created in 6 days by a supernatural act of God, Watson investigates this fantastical idea and how it is contradicted by Yura Muda (Adnyamathanha Dreaming), geology and the notion of 'deep time'. She responds by lovingly and laboriously weaving and stitching – a nod to the possible billion years it took for this landscape to evolve.
'Every Person on the B10 Bus' by Grant Parke presents a selection of drawings and animation from a 3 year project anonymously documenting people on their daily commute.
"I first started these drawings sometime in 2015. I'd moved to Adelaide not long before and was spending a lot of time on public transport, more specifically the B10 bus. I wanted to make use of this time for something constructive. It was never supposed to be anything more than practice and didn't look likely to be anything more given the rocky nature of bus travel. I chose drawing for two reasons. One, I didn't know anyone in Adelaide and was desperate to feel some connection with people and two, I'd become scared of drawing. The first reason has been a theme throughout many years of work and the drive for even making it in the first place, trying to find something human in humans. Something beyond the surface. That is why all my subjects were observed without their knowledge. I was looking for an unguarded moment that revealed something of their nature."
Please join us in celebrating the launch of these two SALA Festival exhibitions!
Hugo Michell Gallery acknowledges the Kaurna people as the traditional custodians of the Adelaide region, and that their cultural and heritage beliefs are still as important to the living Kaurna people today.