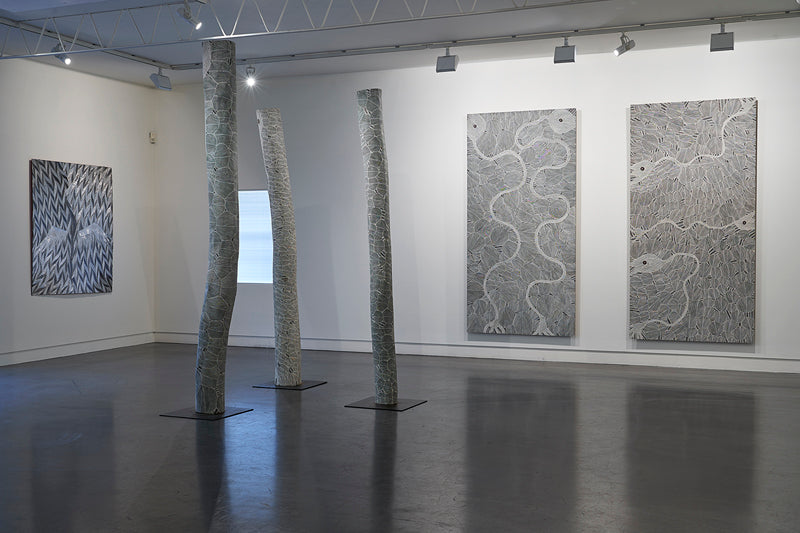 Hugo Michell Gallery invites you to a special event in partnership with Tarnanthi. Join us for an 'In Conversation' between artist Djambawa Marawili AM and Will Stubbs, Co-ordinator of the Buku-Larrnggay Mulka Centre.
For this stellar exhibition, some of today's foremost and pioneering Yolŋu artists come together as a group, or miṯtji. The exhibition demonstrates the collective revolutionary energy that inspires and emboldens artists from the same dynamic art centre, even as they work independently of each other. Together the artists push boundaries and conventions at Buku-Larrnggay Mulka Centre, at Yirrkala in north-east Arnhem Land – yet each in their own boldly creative direction.
Showing works from Gunybi Ganambarr, Malaluba Gumana, Manini Gumana, Djambawa Marawili AM, Noŋgirrŋa Marawili, Dhuwarrwarr Marika, Baluka Maymuru, Nyapanyapa Yunupiŋu, Garawan Waṉambi.
We look forward to seeing you on Saturday the 19th of October from 3pm.
Light refreshments provided.
Gunybi Ganambarr | Manini Gumana | Malaluba Gumana | Djambawa Marawili AM | Noŋgirrŋa Marawili | Dhuwarrwarr Marika | Baluka Maymuru | Garawan Waṉambi | Nyapanyapa Yunupiŋu
Hugo Michell Gallery acknowledges the Kaurna people as the traditional custodians of the Adelaide region, and that their cultural and heritage beliefs are still as important to the living Kaurna people today.