CV + BIO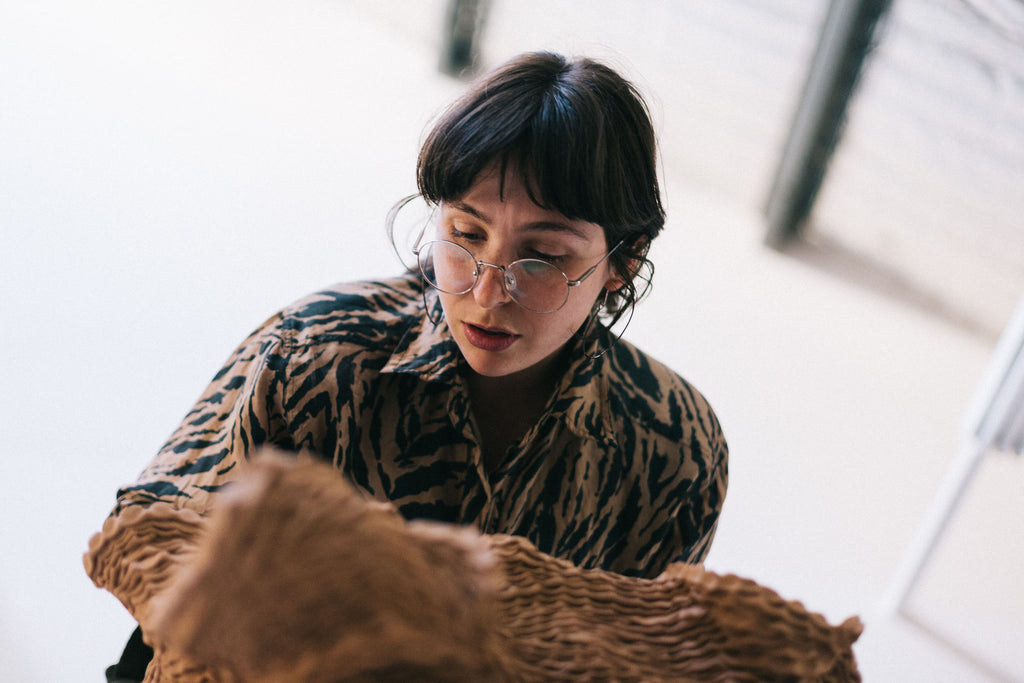 Sam Gold
Sam Gold is a South Australian artist living and working on Kaurna Yerta (the Adelaide Plains).
Sam Gold turned their hand to ceramics in earnest in 2018, bringing over a decade of training in Transpersonal Art Therapy (Ikon Institute), Furniture Design (TafeSA) and studies in Contemporary Art (UniSA, ACSA) to the medium. The pinch-style coiled sculptures and vessels, for which Gold has since become known, push the structural and conceptual capacity of clay. As objects, they materialise a kinship between Gold's physical body, their psychological and emotional self, and the clay body, allowing Gold to explore states of futility, failure, resilience and grit, porousness yet inscrutability. Subtle shifts in form, shape and texture – from the pressure of a thumb to the angle of the wrist – produce a somatic archive; "…your body is the only boundary for clay. You are the profile."
Gold is a highly awarded artist. The recipient of the Helpmann Academy Grant and Undergraduate Award for Excellence (2019), the Helpmann Creative Investment Fund (2021), and the University of South Australia's Australian Ceramics Council Award (2018) and Merit Award for Academic Excellence (2019). Gold has exhibited extensively throughout South Australia, and notably featured in the 2019 Australian Ceramic Triennial, Hobart, and 2021 Primavera at the Museum of Contemporary Art, Sydney. Currently a studio tenant at JamFactory, Gold is represented by Hugo Michell Gallery, Adelaide.
EDUCATION
2018  Bachelor of Contemporary Arts, The University of South Australia
2016  Advanced Diploma of Transpersonal Art Therapy, Ikon Institute, Adelaide
2015  Arts Admin Certificate IV, Adelaide College of the Arts, SA
2014  Diploma of Furniture Design and Technology, TafeSA
SELECTED SOLO EXHIBITIONS
2022  Wet from a moonlight swim, Hugo Michell Gallery, SA
2021  Bodies made of Bodies, BMG Gallery, SA
SELECTED GROUP EXHIBITIONS
2022  HARD, Melbourne Design Week, Mr Boots Gallery, VIC
Collide + Divide, CraftACT, ACT
2021  Hugo Michell Gallery at Explore Sydney Contemporary, Art Fair, Online
Primavera; Young Australian Artists, The Museum of Contemporary Art, NSW
Common Elements, SALA - DFJ Gallery space, curated by JamFactory
CERAMIX, Manly Art Gallery and Museum, NSW
The Nature of Being, DFJ Gallery space, curated by CCH, SA
Section A, Southwest Contemporary, SA
STARBURST, End Space Gallery, SA
2020  Virtual Show, GAGPROJECTS | Greenaway Art Gallery, SA (online)
Canberra Design Fair, CraftACT, ACT
Material Girls, Praxis Artspace, SA
A Common Thread, CraftACT, ACT
2019  Material Connections, SALA Floating Goose Studios, SA
COLLECT: SURFACE, JamFactory, SA
The Ghan 90th Anniversary Residency Exhibition, SA
Aequalis, The Australian Ceramic Triennial, Warf 1 Hobart, TAS
The Helpmann Graduate Exhibition, Drill Hall, SA
Essential Forms, GAGPROJECTS | Greenaway Art Gallery, SA
2018  FACADE, The University of South Australia Graduate Exhibition, SA
Interweave, Ensemble Studios, SA
AWARDS AND GRANTS
2021  The Helpmann Academy Creative Investment Fellowship
2020  Australia Council Grant Recipient- presentation of a new body of work
ArtSA COVID-Response grant
South Australian Graduate Adelaide Fringe Award
Australia Council Grant Recipient-  CraftACT May 2020
2019  Merit Award for Academic Excellence, The University of South Australia
Graduate Award for Excellence, The Helpmann Academy
JamFactory Award, The Helpmann Academy
Helpmann Academy Grant, The Helpmann Academy
2018  Friends of SASA Award, The University of South Australia
The Australian Ceramic Council Award, The University of South Australia
RESIDENCIES AND PROFESSIONAL DEVELOPMENT
2021  CCH Main Prize Finalist
Studio Assistant to Jesse Jones, Dublin Irish Artist for Tremble, Tremble- object maker
JamFactory Ceramic short course Teacher- Hand-building and Wheel throwing
2020  Guildhouse CATAPULT mentorship with Jane Robertson and David Pedler
Intern for Juz Kitson- 2020 Jan Murphy Solo, Milton, NSW
Samstag Museum of Art- Collection and Curatorial Assistant
JamFactory Ceramics Tenant
2019  Samstag Museum Collections and Gallery Assistant
Guildhouse The Ghan 90th Anniversary Residency
Helpmann Academy George Street Studio Residency
2018  Helpmann Academy Elevate Mentorship with Kirsten Coelho
Helpmann Academy Group Grant to travel and attend the Tasmania Ceramic Triennial (May 2019)
PUBLICATIONS
2022  Debutantes, Art Collector Magazine
2021  Primavera: Poiesis and Pottery, Marmalade-Highlights p12
2020  Garland Magazine #19, Fleeting Moments
2019  Wagstaff, C. The Undiscovered Issue: Sam Gold, Art Collector Issue 88
ONLINE
2021  InDaily, Sam Gold set to bloom, words by Mahalia Tanner
Art Collector, Sam Gold joins Hugo Michell Gallery, Words by Charlotte Middleton
Project A, Southwest Contemporary, Review by John Neylon 
2020  Material Girls, Review by John Neylon 
Art Collector, Curatorial Home Edition, written by Joanna Kitto
A Common Thread, Review by Rosalind Moran
2019  Sam Gold, Anna Gore, Emmaline Zanelli: Essential Forms, Art Collector,         
Curatorial Essay, Harriet McKay, GAGPROJECTS
Meet your maker, review by Jane Llewellyn 
CATALOGUE
2020  The incomprehensible wild, Material Girls, essay by Joanna Kitto
Touch and the Haptic, A Common Thread, essay by Julie Bartholomew
2019  Material Connection, essay by Steph Cibich
COLLECTIONS
Artbank collection
Powerhouse Museum of Applied Arts and Science 
Private collections