CV + BIO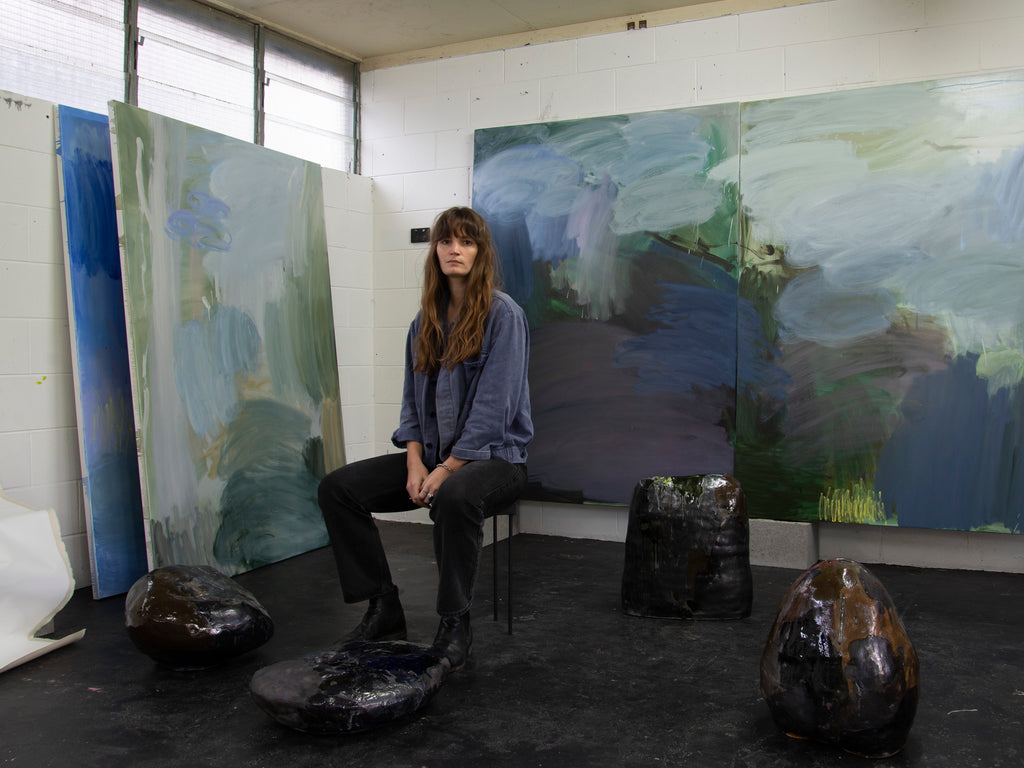 Bridie Gillman
Lives and works in Brisbane, Australia.
Bridie Gillman is a multidisciplinary artist whose practice is informed by ideas of place, and the ways in which experiences and memories shape our perspective of a site.

Bridie Gillman graduated from Queensland College of Art with a Bachelor of Fine Art (First Class Honours) in 2013. Her work has been exhibited in solo and group exhibitions throughout Australia and internationally, including Museum of Brisbane, Brisbane; Casula Powerhouse Arts Centre, Sydney; The Walls, Gold Coast; Blindside, Melbourne and Run Amok, George Town, Malaysia. She is a past finalist of the Brett Whiteley Travelling Art Scholarship, 15 Artists, the MAMA National Photography Prize, and in 2019 was winner of the Moreton Bay Region Art Award.  She has undertaken residencies in Kedewatan, Indonesia, in 2019 and George Town, Malaysia, in 2015, among others. In addition to her own art practice, Gillman is co-director of STABLE, an artist-run initiative in Brisbane.
EDUCATION
2013  Bachelor of Fine Art with Honours (Class 1), Queensland College of Art, Brisbane
SOLO EXHIBITIONS
2022  Quiet of day, Hugo Michell Gallery, Adelaide
2021  Unreliable Memories, Artereal Gallery, Sydney
Amongst, Edwina Corlette Gallery, Brisbane
2020  A space between walls, Hugo Michell Gallery, Adelaide
With the sun in my eyes, Edwina Corlette Gallery, Brisbane
2019  Before the leaves turn, SCAPE at Studio 125 Gallery, Christchurch, New Zealand
Wide eyed, Edwina Corlette Gallery, Brisbane
2017  After, Innerspace Contemporary Art, Brisbane
Overnight, Edwina Corlette Gallery, Brisbane
2016  From here, Spiro|Grace Art Rooms, Brisbane
You and I, we've got the same blood running through us, Cut Thumb, Brisbane
2015  Round Island Tour, Run Amok Gallery, George Town, Malaysia
Makeshift Monuments, A-CH Gallery, Brisbane
Moonbird, Gallery Ten, Hobart
2014  Translations, The Hold Artspace, Brisbane
2013  Baggage Claim, Witchmeat, Brisbane

SELECTED GROUP EXHIBITIONS
2022 
 Hugo Michell Gallery presents, Sydney Contemporary Art Fair, Sydney
After Fairweather, Caboolture Regional Gallery, Caboolture
2021 
 CASCADE, Outer Space, Brisbane
Liminal States, The Old Lock Up, Maroochydore
2020  
New Collectors, Hugo Michell Gallery, Adelaide
2019  
Breathing room
, Collaborative show with Woven Kolektif, Cement Fondu, Sydney

Brisbane Art Design
, Museum of Brisbane, Brisbane

Looking here, looking north
, Casula Powerhouse Arts Centre, Sydney

2018 
10
th
Anniversary Show
, Edwina Corlette Gallery, Brisbane

Platform 10
, Edwina Corlette Gallery, Brisbane

2017 
Woven
, Verge Gallery, Sydney
2016  AusAsia, Metro Arts, Brisbane

2015  
Anywhere, Elsewhere
, Jan Murphy Gallery, Brisbane

The height of a mountain, the width of a valley
, Metro Arts, Brisbane

The moment something is understood it begins to be forgotten
, Blindside, Melbourne

Blue Monaro
, Collaboration with Kylie Spear, The Walls Artspace, Gold Coast

2014 
Day-Day! [dede]
, Galeri Lorong, Yogyakarta, Indonesia

Air
, 107 Projects, Sydney

2013  
LiMEN: Graduate Exhibition, Queensland College of Art, Brisbane
Crossing borders: video art, place and identity
, The Hold Artspace at Northshore Containerval Festival, Brisbane

Middle Ground
, The Hold Artspace, Brisbane

EXIST-ENCE 5 Performance Art Festival
, Queensland College of Art, Brisbane

Arus Balik
, Sanggar Bangun Budaya, Yogyakarta, Indonesia

2012 
+mas
, Addition Gallery, Brisbane
2011  
Coalesce
, Jugglers Art Space, Brisbane


AWARDS AND PRIZES
2020  The Elaine Bermingham National Watercolour Prize, Brisbane (finalist)
2019  Brett Whiteley Travelling Art Scholarship, Brett Whiteley Studio, Sydney (finalist) 15 Artists, Redcliffe Art Gallery, Brisbane (finalist)
Moreton Bay Art Award, Brisbane (Winner)
2018  Fisher's Ghost Art Award, Campbelltown Arts Centre, Sydney (finalist)
2016  PRIZENOPRIZE, The Walls Artspace, Gold Coast (finalist)
Redland Art Award, Redland Art Gallery, Brisbane (finalist)
MAMA; Murray Art Museum Albury (finalist)
2013  The GAS: Graduate Art Show  Art Prize, Griffith University Art Gallery, Brisbane
RESIDENCIES
2019  Kedewatan Residency Program, Ubud, Indonesia
2018  Outer Space Summer studio residency, Brisbane
2017  Carbon, George Town, Malaysia
2015  Rimbun Dahan at Hotel Penaga, George Town, Malaysia 2014 Ketjil Bergerak, Yogyakarta, Indonesia