CV + BIO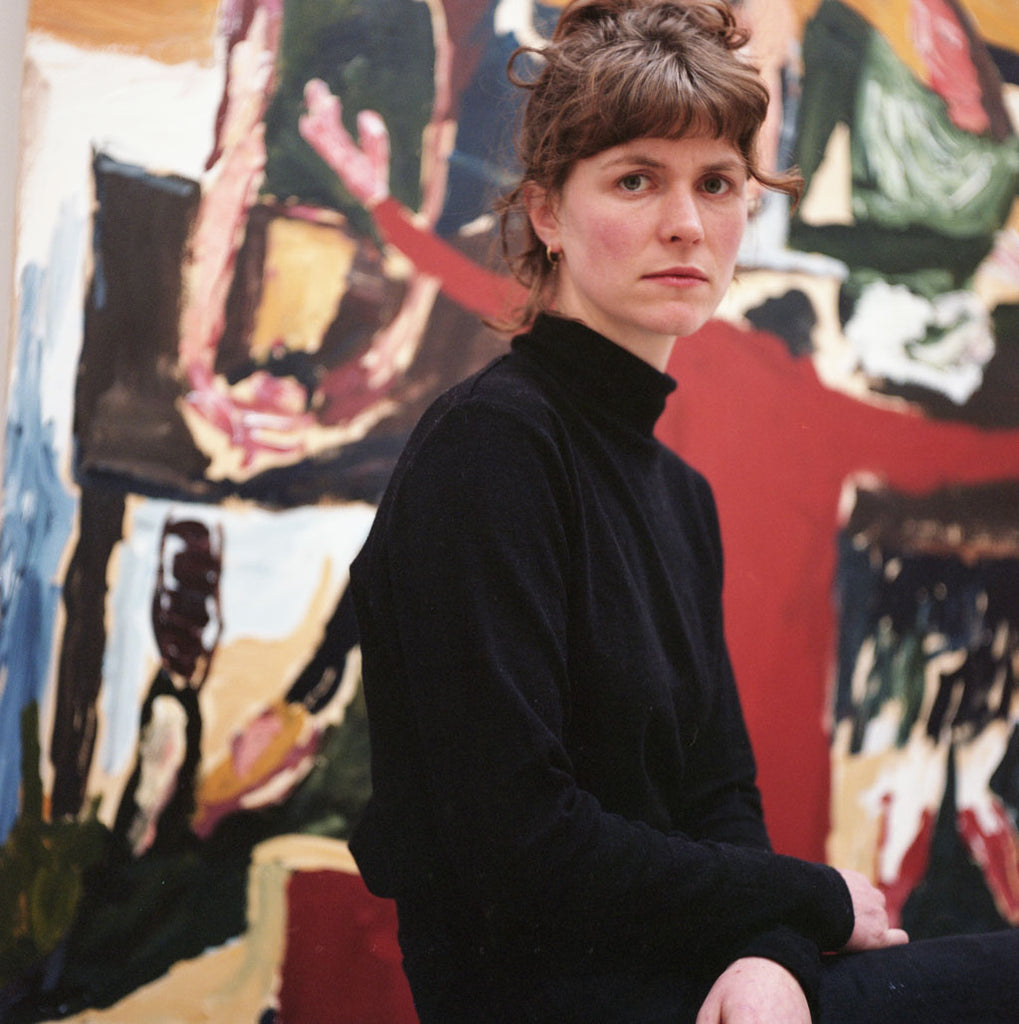 Georgia Spain

Born 1993, UK. Lives and works in Melbourne, Australia.
Georgia Spain is a visual artist and musician living and working in Naarm (Melbourne). She graduated with a BFA in painting from the Victorian College of the Arts, University of Melbourne in 2015, where she was the recipient of the Lionel Gell Foundation Scholarship and a finalist for the Margaret Lawrence Gallery's Majlis Travelling Scholarship. In 2020, Spain was the recipient of the Brett Whiteley Travelling Scholarship administered by the Art Gallery of New South Wales.
In 2021, Spain's work Six Different Women (2021) won the Trawalla Foundation Acquisitive Prize in the Women's Art Prize Tasmania. In the same year, Spain was announced as winner of the Sir John Sulman Prize for her work, Getting down or falling up (2021). 
Her work often explores the complexities of human behaviour; using narrative and storytelling to examine the cultural, political and personal. Her paintings frequently look at ideas around human spectacle, theatricality, ritual and ceremony. She is interested in the emotional and performative exchanges between people in social and psychological spaces and in her paintings physical connection is explored through bodies in groupings.
EDUCATION
2015  Bachelor of Fine Arts (Painting), First Class Honours, Victorian College of the Arts
SELECTED SOLO EXHIBITIONS
2023  Solo exhibition, Hugo Michell Gallery (Upcoming)
2023  I'd rather be here than not, Suite Gallery, Auckland NZ
2022  Time is the thing a body moves through, Tolarno, Melbourne VIC
2021  One to Another, The Egg and Dart, Thirroul, NSW
Both Ways is the Only Way I Want it, The Egg and Dart, Thirroul, NSW
Body Party, Good Gruef, Hobart, TAS
2020  (Beginning in Blue) Left in Red, The Egg and Dart, Thirroul, NSW
2019  The Spectators, Schoolhouse Gallery, Melbourne, VIC
2018  Strange Family, The Diggers Store, Campbells Creek, VIC
SELECTED GROUP EXHIBITIONS

2023  Once More With Feeling, Ngununggula Regional Gallery, NSW
2022  Love, Work (for KD), Sarah Scout Presents, Melbourne VIC
Geelong Contemporary Art Prize, Geelong Gallery, Geelong VIC
2021  Sulman Prize, Art Gallery of New South Wales, Sydney
Women's Art Prize Tasmania, The Maker's Space Gallery, Burnie, TAS
2020  Sydney Contemporary Presents 2020, The Egg and Dart (online)
2019  The Egg & Dart Xmas Salon, The Egg and Dart, Thirroul, NSW
2015  VCA Graduate Exhibition, VCA, Melbourne, VIC
Another, another; One, Easey Street Artist Studio and Gallery, Melbourne, VIC Majlis Travelling Scholarship, Margaret Lawrence Gallery, Melbourne, VIC Two Fields of Thought, VCA Student Gallery, Melbourne, VIC
Proud, Margaret Lawrence Gallery, Melbourne, VIC
2014  Proud, Margaret Lawrence Gallery, Melbourne, VIC
2013  Painting, VCA Student Gallery, Melbourne, VIC
PERFORMANCE
2016  Work Show, Performer for Katherine Connolly, at the Meat Market and Artshouse
2015  Lights No Eyes Can See, Performer for Kate Daw's 5-day piece performed at the Melbourne Town Hall, facilitated by ACCA
ArtBar, Core performer for Kate Daw and Emily Floyd's curated Artbar at the Museum of Contemporary Art (Sydney)
2014  Performance alongside Jon Campbell at the National Gallery of Victoria
AWARDS
2021  Winner, Women's Art Prize Tasmania, Devenport, TAS
Winner, Sir John Sulman Prize, Art Gallery of New South Wales, Sydney, NSW
2020  Winner, Brett Whiteley Travelling Art Scholarship, Sydney, NSW Margaret Lawrence Gallery, Melbourne, VIC
2015  Finalist in Majlis Travelling Scholarship, Recipient of Lionel Gell Foundation Scholarship
PROFESSIONAL EXPERIENCE
2019  Arena Theatre Company – Artist, residency program
2016  Tate Modern – general gallery assistant volunteer
2014  Artist Assistant to Nick Selenitsch, Chalk and Clay exhibition, Sutton Gallery, Melbourne
MUSIC
2019  Trouble isn't Something You Can Hold 8-track album
2015  Precious Company 6-track album
PUBLICATIONS
Design Files, 3 October 2022 https://thedesignfiles.net/2022/10/ studio-visit-georgia-spain/
Miekus, Tiarney, Art Guide, Sept/Oct 2021
Hester Lyon, Georgia Spain, Vault, Issue 33, February – April 2021, pp140-141
Lucy Hawthorne A Messiness of Bodies, Artist Profile, Issue 55, May 2021, pp52-56 Maria Stoljar, Talking with Painters podcast, episode 113, August 2021 https://talkingwithpainters.com/2021/08/03/ep-113-georgia- spain/
Louise Tate, 11 Affordable, Emerging Painters You Should Know, The Design Files, 22 February 2021 https://thedesignfiles.net/2021/02/art-eleven- emerging-artists/

COLLECTIONS
Private collections