CV + BIO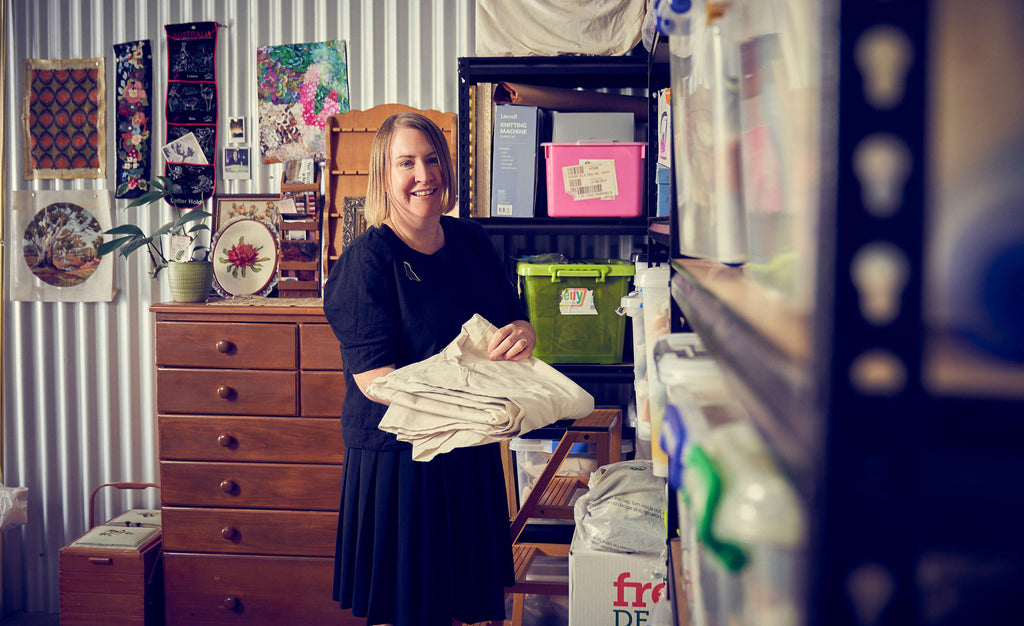 Sera Waters

Sera Waters is an Adelaide based artist, arts writer and academic. Since being awarded a Ruth Tuck Scholarship in 2006 to study hand embroidery at the Royal School of Needlework (UK), Waters' art practice has been characterised by a darkly stitched meticulousness. Her embroideries and hand-crafted sculptures dwell within the gaps of Australian histories to examine settler-colonial home-making patterns and practices, especially her own genealogical ghostscapes. More recently Waters has been exploring how textile traditions can help navigate a future affected by climate change.
Alongside being included in the 2022 Adelaide Biennial of Australian Art: Free/State at Art Gallery of South Australia (curated by Sebastian Goldspink), Waters has been developing and finalising her 'Future Traditions' project, enabled by being awarded the 2020 Guildhouse Fellowship (with Art Gallery of South Australia, supported by the James & Diana Ramsay Foundation). The outcome of this research will be exhibited at Art Gallery of South Australia in late 2022.
From 2020 until late 2021, Waters' solo exhibition, Domestic Arts, toured South Australian regional galleries with Country Arts SA (presented in partnership with ACE Open). This exhibition was developed from being the 2017 recipient of the inaugural ACE Open South Australian artist commission. Other major exhibitions include Dark Portals, at the Lawrence Wilson Art Gallery, University of Western Australia (2013), Sappers and Shrapnel at Art Gallery of South Australia (2016) and Going Round in Squares at Ararat Gallery TAMA (2019).
Her works are held by the Cruthers collection of Women's art, Ararat Regional Gallery, the Art Gallery of South Australia, Powerhouse and private collections nationwide. Waters is a studio member of Central Studios, lecturer at Adelaide Central School of Art, and is represented by Hugo Michell Gallery.
EDUCATION
2014-2018  PhD candidature, School of Art, Architecture and Design, University of South Australia
2003-2006  Master of Arts in Art History, University of Adelaide
1997-2000  Bachelor of Visual Arts (First Class Honours), SASA, University of South Australia
 
SOLO EXHIBITIONS

2022-23  Future Traditions, Art Gallery of South Australia as part of Guildhouse Fellowship
2021  Familiar Activism: Truth-Telling, Noticeboard United, Uffington, Lincolnshire, UK
Specks, Hugo Michell Gallery, Adelaide, SA
2020  Domestic Arts, touring exhibition with Country Arts SA to SA regional galleries (from 2020-2021)
2019  Dazzleland, Hugo Michell Gallery, Adelaide, SA
Going Round in Squares, Ararat Gallery (TAMA), Ararat, VIC
2018  Genealogical Ghostscapes, praxis ARTSPACE, Adelaide, SA
Limb by Limb, Art Collective, Perth, WA
2017  Domestic Arts, ACE Open, Adelaide SA
2015  Spectre Folk, Hugo Michell Gallery, Adelaide SA
2014  Ghostscapes, Fontanelle Gallery, Adelaide SA
2013  Dark Portals, Lawrence Wilson Art Gallery, University of Western Australia WA
2011  CavernLight, Lowrise Projects, Melbourne VIC 
Flocked, Inside SAM's Place residency, SA Museum (with Craftsouth), Adelaide SA
2010  Flyblown, FELTspace, Adelaide SA 
2009  Craft'n Disaster, The Project Space, Contemporary Art Centre of South Australia, Adelaide SA
2008  artroom5, Adelaide SA
2006  Crooks & Nannies, downtown art space, Adelaide SA
 
SELECTED GROUP EXHIBITIONS

2022  Busan Biennale: We, On the Rising Wave, Busan, South Korea
Adelaide Biennial of Australia Art: Free/State, The Art Gallery of South Australia, Adelaide, SA
A Tangled Bank, Penrith Regional Gallery, Penrith
Text Tile, CAVES Gallery, Melbourne
2021  Eucalyptusdom, Museum of Applied Arts & Science (Ultimo's Powerhouse), Sydney
Embroidery: Opression to Expression, The David Roche Foundation, Adelaide, SA
Weaving Futures, Australian Tapestry Workshop, Melbourne
Drawn Thread, artisan, Brisbane
We wish to Communicate HOPE: SA Artists for Climate Action, Noticeboard United, Uffington, Lincolnshire UK
Make the World Again, curator: Kevin Murray online: maketheworldagain.net
Drastic Fabric, Adelaide Central School of Art Gallery, Adelaide SA
2019  Ramsay Art Prize, Art Gallery of South Australia
Domestic Craft, curator: Nicole O'Loughlin, Rosny Barn, Hobart, TAS
2018  Chaozhou International Embroidery Art Biennial, China
Stitch Cult, artisan, Brisbane Qld
DECADE, Hugo Michell Gallery, Adelaide SA
WORD, Hugo Michell Gallery, Adelaide SA
Psychache, Holy Rollers, Adelaide SA
Making History, Hahndorf Academy, Hahndorf, SA
2017  Wangaratta Textile Award, Wangaratta Gallery, Vic
2016  Sappers & Shrapnel, curator: Lisa Slade, Art Gallery of South Australia, Adelaide SA
Heysen Prize for Landscape 2016 (Winner), Hahndorf Academy, Hahndorf, SA
Illusions of History, Hugo Michell Gallery, SA
Meta Ort, curator: Karen Paris, Unley Museum, Adelaide SA
Fleurieu Art Prize, Samstag Museum of Art, Adelaide SA
Guildhouse 50, Art Gallery of South Australia, Adelaide SA
Vote For Me, Format Gallery, curators: Powerhouse: Brigid Noone & Kate Power, Adelaide SA
Spring 1883 (Hugo Michell Gallery), Melbourne Vic
15 Artists 2016, Redcliffe City Art Gallery, Redcliffe, Qld
2015  Slipstitch, curator: Belinda von Mengersen, Ararat Regional Gallery (and touring Vic and NSW until 2017)
The Mythology of my Land, .M Contemporary, Woollahra NSW
Skin Off Our Time, Contemporary Art Centre of South Australia, Adelaide SA
FELTpublic, FELTspace, Adelaide SA
Craft Anonymous, curator: Polly Dance, Adelaide Town Hall (touring regional SA 2016-2018), SA
Life in Still, curated by Melinda Rankin, Murray Bridge Regional Gallery, SA
2014  The Extreme Climate of Nicholas Folland, Art Gallery of South Australia, SA
135th Meridian East, curator: Andre Lawrence, aeaf, Adelaide SA
Art House: the local ghost laboratory, curated by Brigid Noone, Stall 61, Adelaide Central Markets, Adelaide SA
2013  Crystal Palace, curator: Lisa Harms, Flinders University Gallery, Adelaide SA
Life, Stitching, curators: Linda Marie Walker & Pam Hale, Riddoch Art Gallery, Mount Gambier SA
Beyonce is a feminist, Fontanelle Gallery, Adelaide SA
2012  Nadlewerk, Galerie Handwerk, Curator: Elisabeth Bosch, Munich, Germany 
Objectified, South Australia School of Art Gallery, curator: Karen Paris, Adelaide SA 
...build me a city, aeaf, curator: Vivonne Thwaites, Adelaide SA 
2011  Sensorial Loop, Tamworth Textile Triennial, curator: Patrick Snelling, Tamworth, NSW (+ touring)
Imagining Interiors, curator: Wendy Walker, Jam Factory, Adelaide, SA
Home Stories, Adelaide Central Gallery + Migration Museum, curator: Vivonne Thwaites, Adelaide SA
2010  Moving Wounded (ongoing participatory project): http://littleweeds.conservatory.org.au/theMovingWounded.html
Little Weeds, online (littleweeds.conservatory.org.au) + Peel Street exhibition space (with Format Festival) + Seedling Art Space, curator: Lisa Harms, Adelaide SA
2009  Talente 2009, International Trade Fair, Munich, Germany
Wangaratta Contemporary Textile Award, Wangaratta Vic
2001  Hatched, National Graduate Show, Perth Institute of Contemporary Art, Perth WA
 
SELECTED GRANTS, AWARDS & RESIDENCIES

2016  Winner of Heysen Prize for Landscape 2016, Hahndorf Academy, Hahndorf, SA
2016  Australian Tapestry Workshop residency, Melbourne
2015  Hawke EU Centre Travel Bursary: Mnemonics: Memory and Materialism workshop, King's College, London
2014  NAVA Travel Bursary: Future/Forward, Sydney NSW
2013  New work – Mid-career, Australia Council for the Arts
Project Grant, Arts SA
2010  Project & Development Grant, Arts SA
2005  Ruth Tuck Scholarship, South Australian Youth Arts Board
 
SELECTED PUBLICATIONS

2017     McDonald, John, 'Sappers and Shrapnel', Sydney Morning Herald, January 13, http://johnmcdonald.net.au/2017/sappers-and-shrapnel/
2016     Pitt, Elspeth, 'Sappers & Shrapnel: Contemporary Art and Art of the Trenches, Artlink, November, https://www.artlink.com.au/articles/4560/sappers-26-shrapnel-contemporary-art-and-the-art-of/
2016     Purvis, Andrew, 'Vote For Me', Artlink, September, https://www.artlink.com.au/articles/4536/vote-for-me/
2016     de Boer, Janet, 'A Curious Collision', embroidery (UK), July/August 2016, pp. 28-33.
2015      Peers, Juliette, 'Slipstitch', Artlink, vol 35 no 2, June 2015.
2014      White, Sara, 'Ghostscapes: Sera Waters', Artlink, vol 34 no 2, June 2014.
2013      Coleman, Sheridan, 'Dark Portals: Sera Waters', Art Monthly Australia, 264 October 2013, pp. 39-42.
2012      Neylon, John, 'Sparks in the Dark', The Adelaide Review, November.
2011      Harms, Lisa, 'Sera Waters', FELTspace GOLD, pp. 116-119.
2011      Neylon, John, 'Flights of Fancy', The Adelaide Review, April
2011      Nunn, Louise, 'The Birds up there', The Advertiser, July 7
2010      Hart, Jenny, 'Sera Waters', Embroidery as Art blog, Jan 12, (http://embroideryasart.blogspot.com/)
2009      Hemmings, Dr Jessica, 'The Dark Side', embroidery (UK), vol. 60,   Sept/Oct 2009, pp. 24-27.
2009      Dunt, Nerina, 'Craft'n Disaster: Sera Waters', Object, issue 59,   October, p. 58.
2009      Adams, Jude, 'Three Artists- in the world: Anne Kay, Irmina Van Niele, Sera Waters', Artlink, vol 29, no 2.
2007      Zeplin, Dr Pamela, 'Sera Waters: Crooks & Nannies', Craft Culture online, Craft Victoria,
            http://www.craftculture.org
 
PROFESSIONAL EXPERIENCE

2010-current     Studio member of The Incinerator, Thebarton, SA
2005-current     Lecturing, Adelaide Central School of Art & Head of Art History and Theory Department (2015)
2004-current     Arts writer for various local and national publications and catalogues
2013-2014        Carclew Youth Arts Project & Development Grants Advisory Committee
2007-2009        Peer Assessment Panel, Arts SA
 
COLLECTIONS

The Cruthers Collection of Women's Art (University of Western Australia)
The Art Gallery of South Australia
Ararat Regional Gallery
Powerhouse Museum of Applied Art & Science
Private Collections across Australia