CV + BIO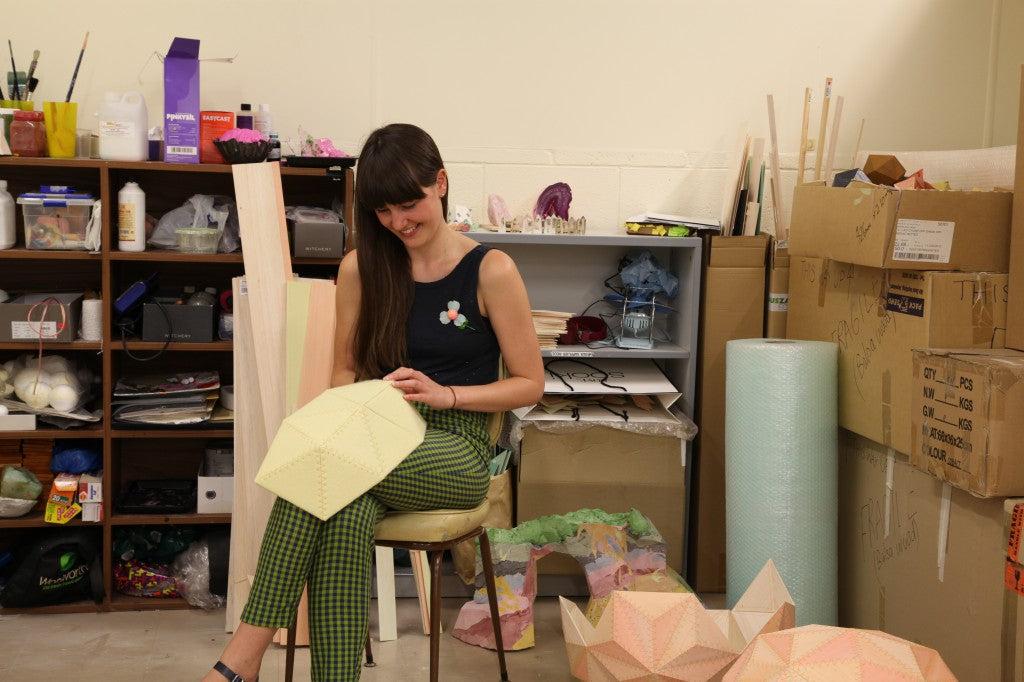 Amy Joy Watson
Born in Adelaide, South Australia in 1987, where she continues to live and work. 
Amy Joy Watson graduated from Adelaide Central School of Art in 2008 with a Bachelor of Visual Art with Honours. Amy has presented solo exhibitions throughout Australia at galleries including Hugo Michell Gallery, Dianne Tanzer Gallery, West Space, GRANTPIRRIE and CACSA Project Space. She exhibited a major sculptural work in Heartland –Contemporary Art from South Australia at the Art Gallery of South Australia in 2013. Amy has been successful in winning several grants through CARCLEW, Arts SA and the Australia Council and was awarded the 2012 CARCLEW Ruth Tuck Scholarship which supported a 3-month studio residency at International Studio and Curatorial Program in New York in 2012.
Amy was the recipient for the 2012 Critics Circle Emerging Art Prize, the 2013 Qantas Encouragement of Australian Contemporary Art Award for South Australia and was a finalist in the 2014 Redlands Art Prize, the 2015 Gold Coast Art Prize and for the 2018 and 2015 Fleurieu Art Prize. She was also successful in winning an Australia Council for the Arts Tokyo Studio Residency which she undertook in 2014. Amy has been commissioned to create several major public artworks including a recent sculpture commissioned by City of Unley on King William Road, a permanent sculptural installation with Urban Art Projects that was installed in Clarence Street, Sydney, a suspended installation in the Australian Catholic University in Melbourne and integrated public artworks in Bank Street, Adelaide.
She has work in major collections around the world including the Art Gallery of South Australia, Art Bank and the private collection of Nigel Hurst (director of Saatchi Gallery, London). She resides in Adelaide, South Australia and is represented by Hugo Michell Gallery.
EDUCATION
2012  Certificate 4 in Small Business Management, Mission Australia
2008  Bachelor of Visual Art (Honours), Adelaide Central School of Art, South Australia
SOLO EXHIBITIONS
2022  Goodnight Air (forthcoming), Hugo Michell Gallery, South Australia
2019  Super Natural Geometries, Hugo Michell Gallery, South Australia 2016 Moon Dune, Hugo Michell Gallery, South Australia
2014  5 Years in a Balloon, Dianne Tanzer Gallery, Melbourne, Victoria 2013 Rainbow Machine, Hugo Michell Gallery, South Australia
2012  How to weigh the air, West Space Gallery 2, Melbourne, Victoria
2011  Year Without Boys, GRANTPIRRIE Gallery 2, Sydney, NSW
2011  Big Rock Candy Mountain, Contemporary Art Centre of South Australia (CACSA) Project Space, South Australia 2010 New work by Amy Joy Watson, Studio Gallery, Adelaide Central Gallery, South Australia
2009  Some place, FELTspace, Adelaide, South Australia
GROUP EXHIBITIONS
2020  New Collectors, Hugo Michell Gallery, South Australia
2018  Great Australian Landscape Project, Ballarat Biennale of Australian Art, Victoria
Fleurieu Art Prize, Fleurieu Art House, McLaren Vale, South Australia
Imagine, Gippsland Art Gallery, Victoria
2017  Sydney Contemporary, Sydney, NSW
Mothership, Fontanelle, Port Adelaide, South Australia
The Collaborators, Art Pod, Adelaide, South Australia
2016  Spring 1883 Art Fair, The Hotel Windsor, Melbourne, Victoria
2016  Playground, JamFactory Gallery, Adelaide, South Australia
Fleurieu Art Prize, Samstag Museum, Adelaide, South Australia
Even Still, Town Hall Gallery, Adelaide, South Australia
2016  Gravity and Wonder, Penrith Regional Gallery in Conjunction with The Powerhouse Museum, NSW 2015 Fantastic Worlds, Rockhampton Art Gallery, Queensland
2015  Gold Coast Art Prize Exhibition, Gold Coast City Gallery, Queensland
Young Collectors Exhibition, Hugo Michell Gallery, South Australia
The Devil is in the Detail, Hugo Michell Gallery, South Australia
2014  Redlands Art Prize 2014, NAS Gallery, Sydney, NSW
Form and Substance, Jan Murphy Gallery, Brisbane, Queensland
2013  Young Collectors Exhibition, Hugo Michell Gallery, South Australia
Heartland, Art Gallery of South Australia, Adelaide, South Australia
2012  No Place, Adelaide Central Gallery, South Australia
Sensation Seekers, Fontanelle Gallery, South Australia
CACSA@70: Members Exhibition, Contemporary Art Centre of South Australia
2011  Flourish, Adelaide Central Gallery, South Australia
2010  There's a time and a place, Light Square Gallery, Adelaide, South Australia
PUBLC ARTWORKS
2020  Tectonic 3, 84 King William Road, Hyde Park, South Australia
2018  Untitled, Clarence Street, Sydney, NSW (collaboration with Urban Art Project)
2017  Geode, seating and sculptural elements in Bank Street, Adelaide, South Australia
2015  Lola and Val, installation at Mater Private Hospital (supported by iAM PROJECTS) Springfield, Queensland 2015 Celestial Bodies, Australian Catholic University Daniel Mannix Building, Melbourne, Victoria
2014  Fallow, Anzac Commemorative Sculpture, collaboration with Groundplay, St Peters, South Australia
RESIDENCIES & WORKSHOPS
2021  Centre for Creative Health Art Prize, South Australia (People's Choice Award Winner)
2019  Sculpture workshop for NEO at Art Gallery of South Australia
Textile workshop at ACE Open, South Australia
2018  Artist in Residence, Pembroke Primary School, Kensington Park, South Australia
2015  Come Out Festival Artist in Residence, Pennington Primary School, South Australia
2014  Tokyo Studio Residency, Australia Council for the Arts, Japan
Artist in Residence, 'Pom Pom' Children's Contemporary Art Space, Daveron Park, South Australia 2013 Artist in Residence, Pembroke School, Kensington Park, South Australia
2012  International Studio and Curatorial Program (ISCP), Brooklyn, New York, USA
Artist in Residence, Wilderness School, Medindie, South Australia
CURRICULUM VITAE
2009  Takt Kunstprojektraum Residency, Berlin, Germany
2009  Artist in Residence, Golden Grove High School, Golden Grove, South Australia
AWARDS, GRANTS & SCHOLARSHIPS
2018  Finalist, Fleurieu Art Prize
Finalist (highly commended), Whyalla Art Prize
Peoples Choice Award, Whyalla Art Prize
2015  Finalist, Fleurieu Art Prize
Finalist, Gold Coast Art Prize 2015
2014  Finalist (highly commended), Redlands Art Prize 2014
2013  Qantas Foundation Encouragement of Australian Contemporary Art Award 2013 Australia Council for the Arts Tokyo Studio Residency
2012  Rip It Up Young Artist Award, SALA Awards
Project Grant, Arts SA
Ruth Tuck Visual Arts Travelling Scholarship, CARCLEW Youth Arts
2011  Adelaide Critics Circle Emerging Artist Award
3rd Ward Brooklyn Open Call Early Entry Prize, 3rd Ward Brooklyn, NY, USA 2011 Finalist, Channel Nine Young Achiever of the Year Coffee Club Arts Award
2011  Project Grant, Arts SA
2010  Project and Development Grant, CARCLEW Youth Arts
2009  SA Life Emerging Artist Award, SALA Awards
Core Energy Group Sculpture Award, SALA Awards
Finalist, Bendigo and Adelaide Bank Award
Project Support Grant, Helpmann
Internal Scholarship, Adelaide Central School of Art
2005  School Leavers Scholarship, Adelaide Central School of Art
2004  School Dux Award, St Johns Grammar School
COLLECTIONS
Nigel Hurst (Director of Saatchi Gallery, London) Private Collection Art Gallery of South Australia
Art Bank
Wollongong Art Gallery
Gippsland Art Gallery
Private collections in Australia and overseas
BIBLIOGRAPHY
2019  Jane Llewellyn, Amy Joy Watson's unexplainable landscapes, The Adelaide Review, Issue 473, July 31 2019 2016 Craig Judd, Gravity (and Wonder), Artlink,
2016  Jane Llewellyn, The Light Side of the Moon, The Adelaide Review, Issue 441, November 2016, page 41 and 47 2016 Dean Buckley, Amy Joy Watson, The RSA Journal, London, Issue 2 2016
Janine Vangool, Amy Joy Watson, UPPERCASE Magazine (Canadian), October/November/December issue 2015 Inaugural Dobell Exhibition Grant Recipient Announced, Museums and Galleries of NSW,
http://mgnsw.org.au/sector/news/inaugural-dobell-exhibition-grant-announced/ November 16 2015 2014 Phil Brown, Man of Substance, Brisbane News, July 2 2014, page 26
2014  Annemarie Kiely, The colourful, airborne art of Adelaide sculptor Amy Joy Watson VOGUE Living, January/February Issue 2014
2013  Jane Llewellyn, Rainbow Machine, The Adelaide Review, issue 405 November 2013, page 40
Jane Llewellyn, Amy Joy Watson, Australian Art Collector, issue 66 October-December 2013, Page 227
Ross Woodrow, Heartland, The Melbourne Review, November 2013, page 44
Margot Osborne, Heartland: Contemporary Art from South Australia, Art Monthly, August 2013, page 19-22 2013 Wendy Walker, Convergence and divergence at the heart, The Australian, June 28, 2013
2012  Lisa Slade, Critic's Choice, Australian Art Collector, issue 61, page 153
Tania Evans, No Place, Art Monthly, page 108
Katie Spain, Artists on the Rise, The Adelaide Magazine, issue 62, June 2012, page 25
2012  Stephanie Radok, Finding a place, The Adelaide Review, Issue 387 May 2012, page 34-35
2011  Nathan Kelly, Amy Joy Watson, Rooms Magazine, London, Issue 6, front cover artwork and page 20-27. 2011 Annika Evans, Amy Joy Watson: Big Rock Candy Mountain, Artlink, Volume 31 No 3, page 92