CV + BIO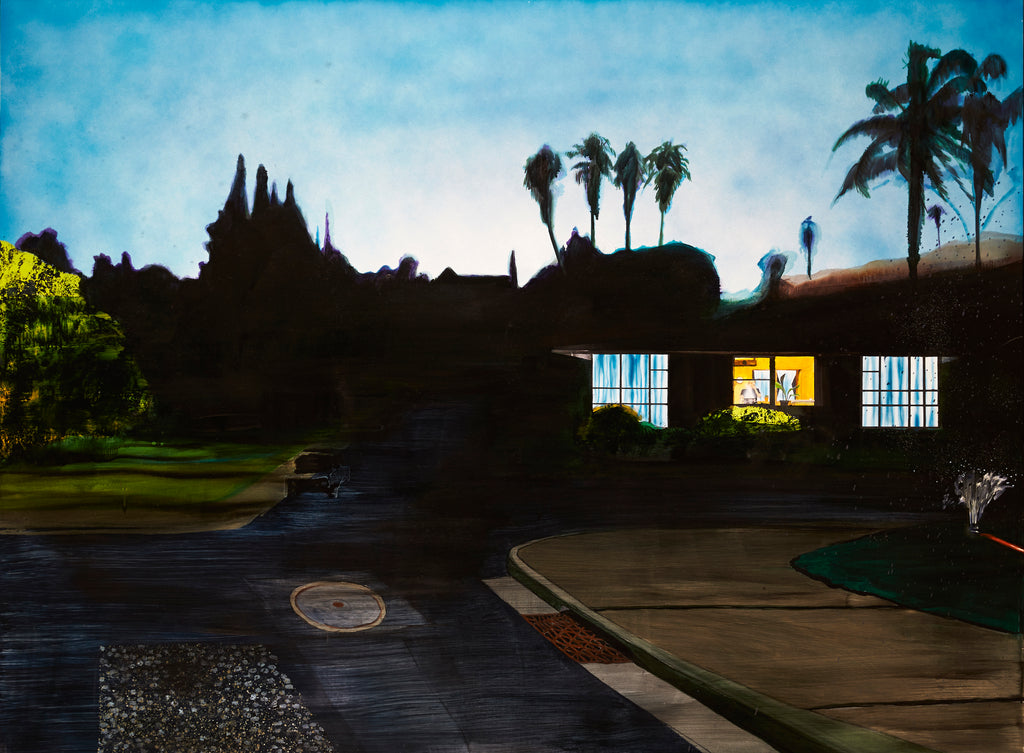 William Mackinnon
Born in 1978, William Mackinnon lives and works between Ibiza, the UK and Australia.
William Mackinnon's landscape paintings portray the world he inhabits with ebullience, wonder and whispers, perhaps, of terror. Mackinnon's vision captures the vastness of his domain in manners both terrestrial and emotional. Movement and displacement abound in his pictures too with dazzling painterly invention and compositional risk, Mackinnon suggests the notion that the extraordinary abounds in the mundane.
Conflicting, loaded messages give Mackinnon's landscapes charge and depth: is this a place to rest? Is this a place to die? Menace and welcome in equal measure; light and darkness showing and obscuring in equal measure. 
Strange things happen in the dark and it's the darkness that permeates many of Mackinnon's best paintings. Mackinnon allows the dark real primacy. Blackened areas abound; often dominating his compositions and offering juicy counterpunches to the light-filled and boisterous passages where content is visible and real. In the blast of his headlights, the road dazzles with reflective markers, swooping passing-lane stripes and glowing, orange panels with arrows indicating a hard left turn to come. But beyond that, beyond the turn, utter blackness. The Void. Inky, fathomless expanses abut his lit areas with such sheer tension as to suggest potential doom or potential bliss. It becomes clear that these blackened fields are not really empty at all. No, Mackinnon's "empty" spaces behave with all the fecund possibility - of bounty, of menace - that the imagination dares to ignite. Look into the dark spaces and there is nothing to "see" there, nothing is rendered, and yet all is perceptible. The dark stares right back at us, pregnant with the scary shit we cannot see. So while there is pictorial absence - blankness, depth, openness, what painters call "negative space" - this is also fertile acreage for great emotional density, as the viewer can't help but load the space with content, expectation and possibility. The anti-void is what it has become. (Alex Weinstein, Los Angeles, 2014)
EDUCATION
2008  Masters of Visual Arts. Victorian College of the Arts, Melbourne
2006  Post-graduate diploma, Chelsea School of Art and Design, London
2005  Internship at the Chinati Foundation, Marfa, Texas
2004  Internship at the Peggy Guggenheim Museum, Venice
1996-2000 Bachelor of Arts, Melbourne University
SELECTED SOLO EXHIBITIONS
2022  Modern Family, Simon Lee Gallery, Hong Kong
Home and Away, Hugo Michell Gallery, Adelaide
2021  Fairwell Transmission, Simon Lee Gallery, Beijing
2020  Strive for the light, Simon Lee Gallery London
Learning to love the wind, Hugo Michell Gallery
2019 Phoenix, Ibiza Arts Projects
Half the perfect world, Jan Murphy Gallery
2018 The Lucky Country, Hugo Michell Gallery
2016 Psychological landscapes, Jan Murphy Gallery
The World is as you are, Hamilton Regional Gallery
Internal Weather, Hugo Michell Gallery, Adelaide
2015 Crossroads, Hugo Michell Gallery, Adelaide
2014 Landscape as self-portrait, Utopian Slumps, Melbourne Art Fair
2013 On the Edge of Knowing, Utopian Slumps, Melbourne
Cavedreams, Artstage Singapore, Utopian Slumps
Paintings conceived while driving, Horsham Regional Art Gallery
2012 The Great Indoors, Utopian Slumps, Melbourne
2011 The Lucky Country, Utopian Slumps, Melbourne
2010 Paintings conceived while driving, Utopian Slumps, Melbourne
2009 Mountains, streams and cavedreams, Joint Hassles, Melbourne
SELECTED GROUP EXHIBITIONS
2023 Melbourne Now, National Gallery of Victoria, Melbourne
2022 Bewilderness: Recent acquisitions, Art Gallery of South Australia, Adelaide 2017 Triennial: National Gallery of Victoria, Melbourne
2013 Landscape of longing, Mornington Peninsula Regional Gallery
2011 The Painting Group, Milani Gallery, Brisbane
2010 Hell's bottom drawer, Hell Gallery, Melbourne
I am your mirror, Ryan Renshaw Gallery, Brisbane 2008 Under the influence, Warnambool Art Gallery
2007 Going Under, Joint Hassles, Melbourne
Empire Strikes Back, Hewer St Studios, London 2006 Chase, Royal College, London
2005 Cut and Paste, Pickled Art Centre, Beijing
2002 Homeshow, Next Wave Festival, Melbourne
Short-listed for Alice Prize
Finalist for Arthur Guy Memorial Prize, Bendigo Regional Art Gallery
2013 Finalist for Arthur Guy Memorial Prize, Bendigo Regional Art Gallery; Winner of the people's choice award
Finalist Fleurieu Landscape Prize
2012 Shortlisted for the Alice Prize
2011 Finalist for Churchie Contemporary Painting Prize
Finalist for Keith and Elizabeth Murdoch Travelling Scholarship 2010 Awarded Australia Council Grant, (Artstart)
2008 Winner of Marten Bequest Travelling Scholarship
Shortlisted for ABN AMRO Contemporary Art Prize
2003 Finalist for Brett Whiteley Travelling Scholarship
COLLECTIONS

Artbank
The Art Gallery of South Australia
Griffith University
Holmsesglenn Institute
HOTA, Brisbane
Ian Potter Museum
Joyce Nissan Collection
Macquarie Group Collection
Melbourne University Art Collection
The National Gallery of Victoria
Parliament House Art Collection
RACV Collection
Stonnington Council Collection
State Library of Victoria
Private Collections, national and international