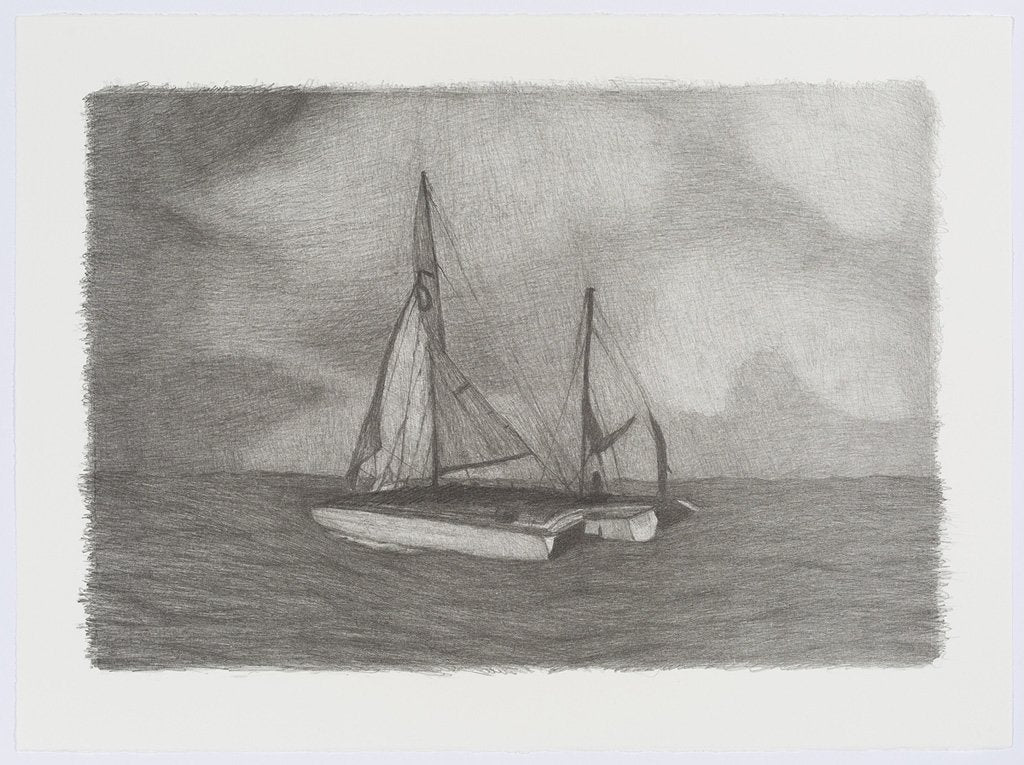 Richard Lewer 'Donald Crowhurst' Lithograph Print
Donald Crowhurst editioned print by Richard Lewer. 
In 1968 Donald Crowhurst an amateur sailor with a business on the brink of bankruptcy, entered the Golden Globe non-stop solo circumnavigation yacht race, enticed by it's £5,000 prize money. Once departed from England it became clear that neither Crowhurst nor his trimaran Teignmouth Electron were up to the challenge. Realising he had no chance of winning Crowhurst began falsifying his logbooks and communicating false positions to the jury, making it believe he was ahead of the other competitors. In reality his boat never left the Atlantic Ocean. Some days later when Crowhurst realised that he was one of the only competitors still in the race and that he could not plausibly get away with his fraud, he suffered a breakdown. His empty yacht was found by a passing ship with two sets of logbooks on board, the fake and the real, thanks to which the world has been able to learn of his desperate endeavour.
Signed, edition of 15. Lithograph print, 2020. 
Print size: 66cm × 45.5cm
Paper size: 76cm × 56cm
Due to the delicate nature of this print, please contact Hugo Michell Gallery to arrange delivery and/ or framing of this work.