CV + BIO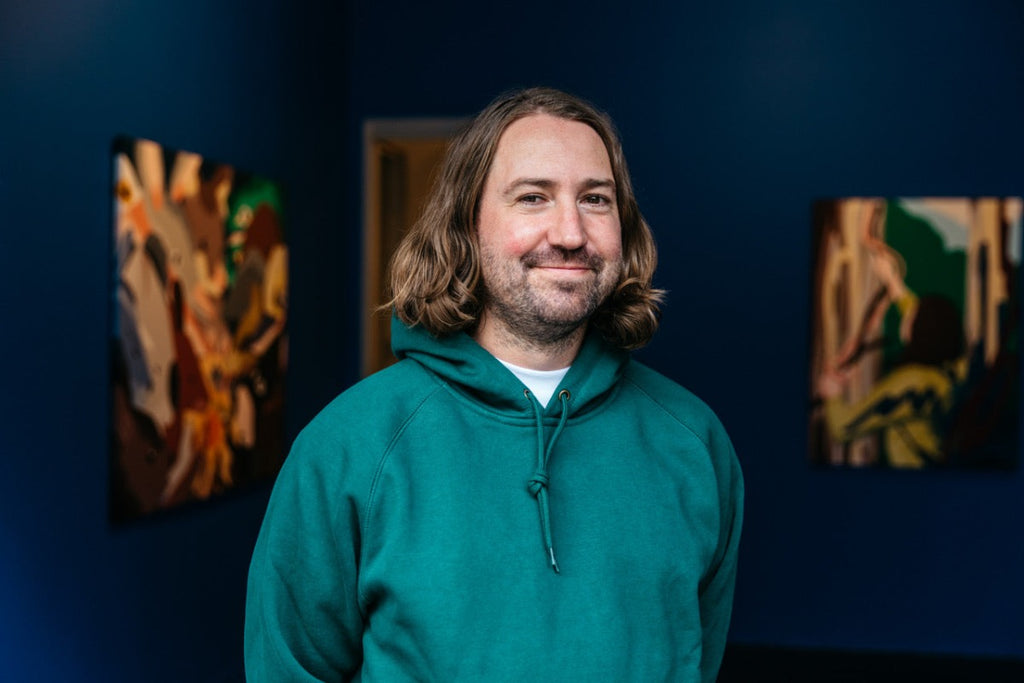 David Booth [Ghostpatrol]
Born in Hobart, Tasmania. Lives and works in Melbourne, Australia. 
Working under the pseudonym Ghostpatrol, David Booth first made a name for himself on the walls of Melbourne's laneways. Working with ephemeral techniques, by 2007 Booth had built an international reputation as a leading street artist. However Booth's practice, grounded in a passion for drawing and sketching, has always been split between street-based works, including temporary sculptures and installations, and that of a contemporary studio-based practice. As a result Booth sees his role often floating between that of a contemporary artist, commercial designer, mural painter and artistic collaborator. 
The legacy of Booth's childhood environment — Tasmania being an isolated and halcyon island, densely populated with forests and bodies of water — is threaded throughout his practice. His imaginary lands feel unearthly, meditative and ethereal; Booth is a creator not of simply of narratives, but entire worlds. His works make the viewer feel like they are falling into a daydream; at once intensely familiar and welcoming, and entirely otherworldly. They are alternate realities woven in threads of hybrid animals, creatures and characters, pop culture references and childhood nostalgia. Booth's workspaces often turn, as he works, into small shrines. Yet the whimsical and innocent qualities of his practice ostensibly belie their conceptual concerns with metaphysics, cosmic scale, curiosity-led science, quantum physics and futurism. Booth's visual language invites us to see beyond the scale of our earthly existence and the limits of our own atomic configuration. 
Booth's ongoing explorations are focusing, at present, on ambitious installation and painting projects and other multimedia experiments, often working collaboratively. These passion projects — among them, the Hepburn Wind Farm and the Royal Children's Hospital, Melbourne — inform Booth's studio practice and gallery work, and reflect the artist's social and environmental conscience.
SELECTED SOLO EXHIBITIONS
2021  Time Feeling Slippy, Hugo Michell Gallery, Adelaide
2019  Hello Blue Sky, Hugo Michell Gallery, Adelaide
2017  Drift Time, Hugo Michell Gallery, Adelaide
2015  Spaceship of the Mind, Hugo Michell Gallery, Adelaide
2014  Yamonie, 0rf Gallery, Tokyo
2013  Scale Meditator, Hugo Michell Gallery, Adelaide
The Painting of Gale, Hepburn Windfarm
2012  Horizon, Hugo Michel Gallery, Adelaide
Super Future and Cosmic Scale, Backwoods Gallery, Melbourne
Honey in the Rock, Blackartprojects at Chalk Horse Gallery, Sydney
2011  Shoulders of Giants, Hugo Michell Gallery, Adelaide
2010  True Adventures, Hugo Michell Gallery, Adelaide
Warp Points and Seed Vault Save Points, No-Vacancy Gallery, Melbourne
SELECTED GROUP EXHIBITIONS
2018 Biennial of Australian Art, Art Gallery of South Australia
2014 Made To Last, Charles Darwin University, Darwin
2012 Made To Last, Latrobe Regional Gallery, Victoria
2010  Space Invaders, National Gallery of Australia, Canberra
Present Tense, National Portrait Gallery, Canberra
Zen to Kawaii, QUT Art Museum, Brisbane
Constellations, RMIT gallery, Melbourne
100, Blackartprojects, Melbourne
2009  Soft Animators, Craft ACT Gallery, Canberra
SELECTED PROJECTS 
2022 
Melbourne Comedy Festival, Hero Artwork
2021 
Scotch Oakburn College, Artist in Residence
True Colours, Life Blood Red Cross Australia
2020 
Wander Draw Explore, National Gallery of Victoria
Full Face, QAGOMA
Scotch Oakburn College, Artist in Residence
2019 
Enlighten, Parliament House, Canberra
Sydney Metro Murals for Tallawong Station
Geelong Grammar School, Artist in Residence
Adelaide City Library Mural
2018 
Peter MacCallum Cancer Hospital Murals
Deep abyss Mission, Melbourne Museum
2017 
Westwind: Djalu's Legacy, Documentary Film
Ecostore TVC.
2016 
Children's Gallery, Melbourne Museum 
COLLECTIONS
National Gallery of Australia
Artbank
Parliament House Art Collection
Private collections