Lesley Forwood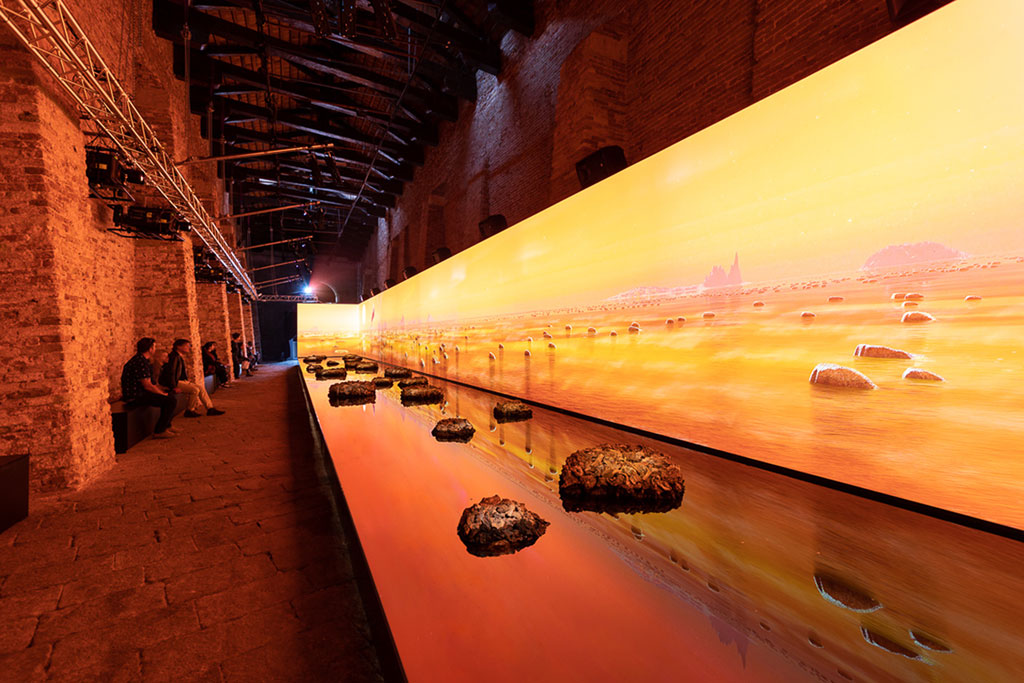 James Darling and Lesley Forwood's installation, Living Rocks: A Fragment of the Universe, is now showing as an Official Collateral Event at La Biennale di Venezia, presented by the Art Gallery of South Australia.
Living Rocks: A Fragment of the Universe is grounded in the artists' minimalist tradition; simple, strong, and with a magnetic power to engage the viewer. But 'Living Rocks' is a bold departure and a fundamentally ambitious project, achieved in collaboration with Jumpgate VR, Paul Stanhope, and the Australian String Quartet. Significant in both its investigation and presentation, the installation is an inspiring and immersive experience that connects the present day to the beginning of life on earth. Living Rocks: A Fragment of the Universe addresses the question: what was our planet three billion years ago?
The installation connects the present day to the beginning of life. It is a memory of our origin and a prophesy of our future.

James Darling
Living Rocks: A Fragment of the Universe has been selected as one of only 21 official collateral events of the Biennale Arte 2019 in Venice.
Curated by Dr Lisa Slade.
Living Rocks: A Fragment of the Universe
Magazzino del Sale (n. 5, Dorsoduro 262)
Exhibition runs until 24 November
Closed on Tuesday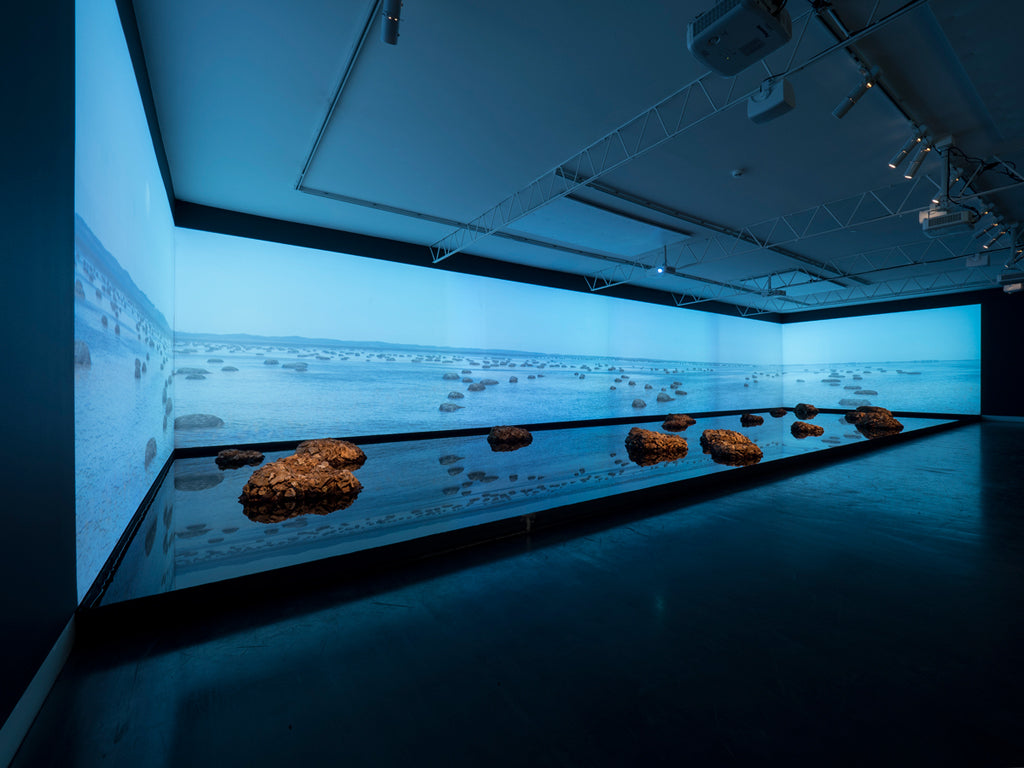 Hugo Michell Gallery invites you to the opening of James Darling & Lesley Forwood's 'Living Rocks: A Fragment of the Universe' and Sue Kneebone's 'Spurious Natures'.
'Living Rocks: A Fragment of the Universe' is a transportive and exceptionally ambitious installation, achieved in collaboration with Jumpgate VR and the Australian String Quartet.
On a trip to the Limestone Coast, an ecologist informed Darling and Forwood they would find thrombolites; rare rock-like microbial structures which, when emerged from beneath water, photosynthesize. Thrombolites and stromatolites are both microbialites whose structures colonise lake floors and which, over billions of years, supplied the first large quantities of oxygen to the atmosphere of our planet.
Darling and Forwood have responded to the extraordinary natural structures with an expansive and evolutionary installation, which includes flooding two-thirds of the seventeen-metre-long gallery. In collaboration with Jumpgate VR, the artists have generated a landscape spanning 3 billion years. 'Living Rocks' also features an original score composed by Paul Stanhope, recorded by the Australian String Quartet at UKARIA Cultural Centre.
—
Sue Kneebone's interdisciplinary practice seeks to draw the viewer in to consider insidious subtexts such as disturbed ecologies and dispossession from colonial incursions. A combination of field trips and archival research into her family past have fostered a deeper understanding of the inherited and ongoing legacies of colonial settler culture. This landscape of contrasting brutality and gentrification has inspired a broader personal investigation of this colonising period. Her works seek to reflect the duplicitous nature of colonial settler culture entangled in the shadowy undercurrents of the past that still resonate today.
'Spurious Natures' taps into the current state of eco-anxiety by exploring the relational disconnect between the colonial-settler body and its environment. Through these works, Sue Kneebone explores the affective nature of her colonial ancestors, already afflicted by chronic illness before emigrating to South Australia in the 1850s. This was a time when nineteenth-century British doctors held the underlying assumption that disease developed if one's bodily constitution was irritated, imbalanced, or out of harmony with its environment. The temperate climate in the southern parts of Australia developed a reputation as a potential restorative haven for those with consumption and other delicacies of the chest. Despite this hope, many colonial emigrants succumbed to their illness within a few years of arriving in Adelaide (Kaurna Country). In 'Spurious Natures', a tide of colonial pathos left over from failed self-cures and anthropogenic neglect has been expressed through the tremulous tensions held within these mixed media tableaux.
Please join us on June 14 to celebrate these incredible South Australian artists.