Kenny Pittock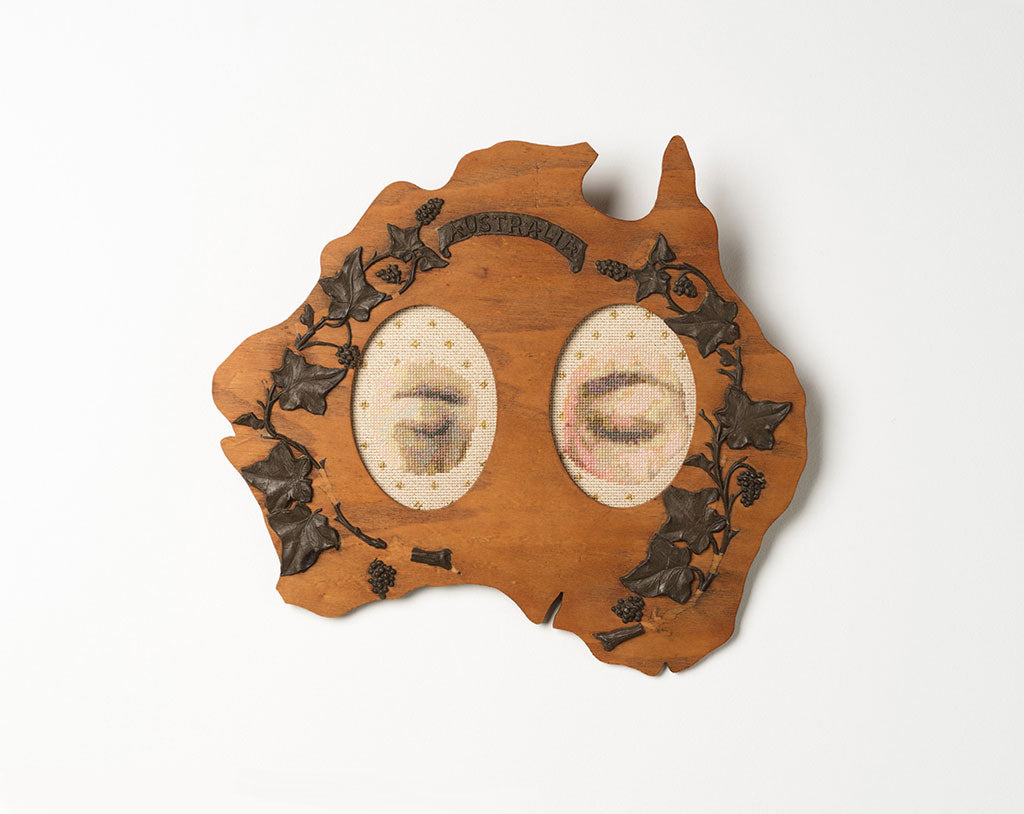 Hugo Michell Gallery invites you to the opening of Sera Waters' 'Dazzleland' and Kenny Pittock's 'Every Kind of Shape'.
Sera Waters is a South Australia-based artist, arts writer, and academic. Waters' art practice is characterised by a darkly-stitched meticulousness. In particular, she specialises in blackwork, and revels in repetitiveness, pattern, and crafting. Waters' embroideries and hand-crafted sculptures dwell within the gaps of Australian settler colonial histories, examining the home-making practices of women and her own genealogical ghostscapes.
In 'Dazzleland', Waters further examines her ancestral past: "My ancestors arrived in waves upon Australian shores attracted by the dazzle of this land: its sunshine, mineral booms, grassed open spaces, and new opportunities to build rich lives. In making their homes and living across Australia, particularly upon Kaurna and Bunganditj Country, many were implementers of colonising change, such as planning widespread drainage, laying bitumen, marking boundaries, mining, purveying merchandise, farming livestock, and clearing and covering land with non-native species. Evidence from their lives show they gave little consideration to the knowledge and carefully-balanced ecologies which had been operating in Australia for centuries. This exhibition looks at the repercussions upon regions which have been exploited, altered, and had the 'dazzle' removed without due care, and without knowledge of the specificities of Country. Through the works of 'Dazzleland' I am asking what it means to inherit this intergenerational blindness, as well how we go forward living in this dazzling aftermath, when today what shimmers most is the scorching heat beating upon a dry and damaged land."
This exhibition has been assisted by the Australian Government through the Australia Council, its arts funding and advisory body.
–
Kenny Pittock is a Melbourne-based artist who employs humour and sentimentality to playfully respond to contemporary Australian culture, exploring the overlaps and boundaries between the public and the personal. Pittock works across a large range of mediums, including ceramics, drawing, text, and photography.
Kenny has exhibited across Australia and internationally, including at the Museum of Old and New Art, the Australian Centre for Contemporary Art, the Perth Institute of Contemporary Art, the Monash University Museum of Art, Artspace in Sydney, and Galleria 291 in Rome, Italy. Pittock's work is held in collections including the City of Melbourne State Collection and the Melbourne University Union Collection.
Please join us in celebrating the launch of these two incredible exhibitions on May 16!
Hugo Michell Gallery acknowledges the Kaurna people as the traditional custodians of the Adelaide region, and that their cultural and heritage beliefs are still as important to the living Kaurna people today.