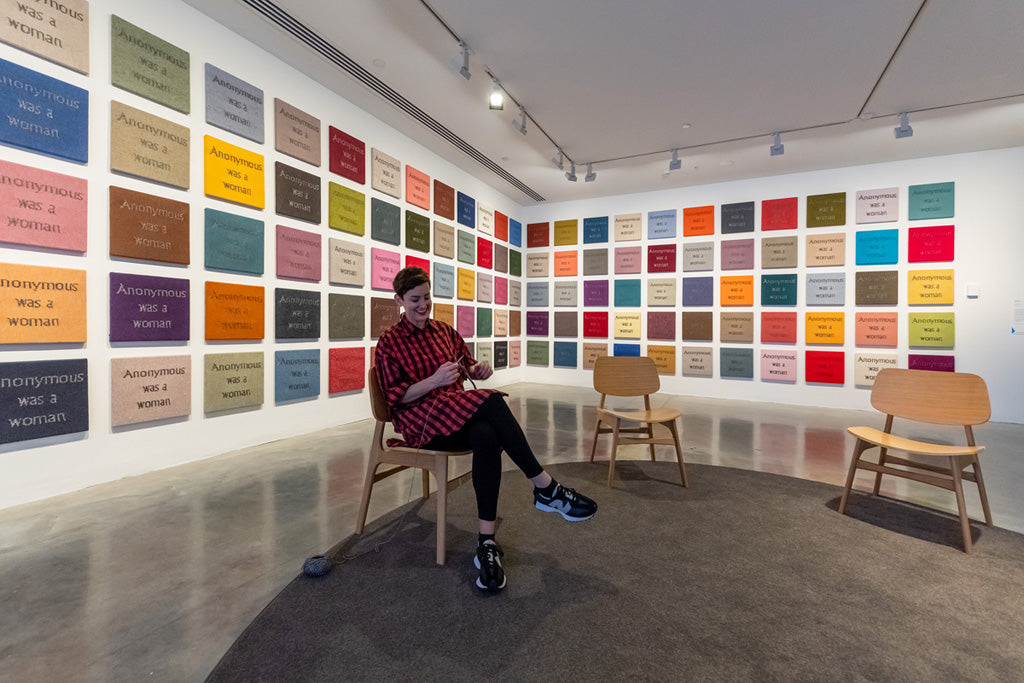 Launching this Friday, featuring new work by Kate Just, The National 2021: New Australian Art is a celebration of contemporary Australian art. The final of three biennial survey exhibitions. Through ambitious new and commissioned projects, 39 artists feature across three venues, the Art Gallery of New South Wales, Carriageworks and the Museum of Contemporary Art Australia.
Kate Just's 'Anonymous was a woman', is an ongoing work that involves the repetitive production of hand knitted panels (16 x 16 inch) bearing the text 'Anonymous was a woman.' Stretched around canvas, each uniquely coloured work resembles a textile plaque. The muted tones of the work refer to a palette of jewels or minerals, natural or long buried treasures. Assembled on the wall in a grid, the works conjure a columbarium or monument to past lives or lost artworks.
The work is inspired by a quotation in Virginia Woolf's A Room of One's Own (1928). In this feminist polemic, Woolf questions the ways women's authorship has been judged as inferior to that of men, and systematically made invisible. Woolf says, "I would venture to guess that Anon, who wrote so many poems without signing them, was often a woman." Over time this quote has been rephrased as "Throughout most of history, Anonymous was a woman." Just states, "Through the making of the work, I meditate upon the immeasurable contributions that women have made to culture and society, and mourn the losses sustained by the erasure or exclusion of many of these gifts from the canon of art history."
Pictured: Kate Just, 'Anonymous was a woman (installation detail)' 2019-21, knitted wool, 41 x 41 cm each panel.