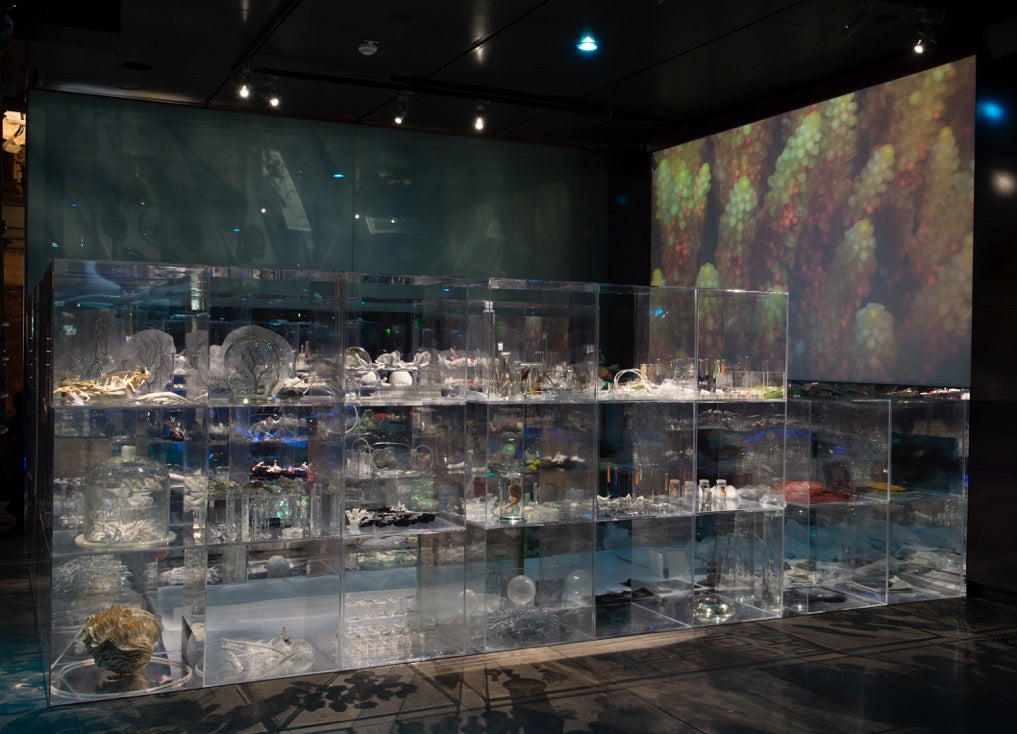 Janet Laurence is exhibiting in a number of international exhibitions, including Warning Shot at Topographie de l'Art, France, Moving Plants at Rønnebæksholm, Denmark, and Force of Nature, streaming online. An advocate for environmental issues, Laurence creates immersive installations that investigate the relationship between nature and the greater eco-system.
Warning Shot, Topographie de l'Art, France
Warning Shot, curated by Barbara Polla, features Janet Laurence alongside Amy Balkin, Ursula Biemann, Janet Biggs, Shaun Gladwell, Joanna Malinowska, and Gianluigi Maria Masucci. Laurence will exhibit Deep Breathing: Resuscitation for the Reef, a video work which was exhibited widely through 2016, including at the Muséum National d'Histoire Naturelle and the Australian Museum. 
Exhibition runs from July 5 to 27. For more information head here.
Force of Nature, Carte Blanche to James Putnam
Force of Nature is an ongoing contemporary art project previously staged in London and Brussels. It aims to examine the way contemporary artists have been inspired not only by nature but also its processes – evolution, birth, growth, ageing, decay, change. Taking inspiration from nature's inherent forces, their acute observations and individual approaches can result in works that are site-specific, monumental or ephemeral. Nature is constantly in a state of change and the artists' awareness and sensitivity to this change is crucial to the creation of their work that can be representational, conceptual, abstract, and sometimes otherworldly.
Curated by James Putnam, Force of Nature features Janet Laurence, Antti Laitinen, Iyvone Khoo, and Cameron Robbins. Laurence exhibits a 2016 video work titled The Persistence of Nature.
See Ikon website for streaming details, and for more information head here.
Moving Plants at Rønnebæksholm, Denmark
Moving Plants is an exhibition and event series focusing on local plants based on the Laurence's work in climate and environmental issues, including why plants are among our main earthbound partners, if we want to understand and survive in the new, climate-changed world.

The exhibition displays works by various artists from Denmark, Sweden, Hong Kong, Japan, USA, and Australia, many of whom have traveled halfway around the globe to work with local plants. Consequently, the exhibition examines global issues, while relating to Rønnebæk Holm's own framework and local roots.
Laurence exhibits alongside Watanabe Koichi, Yukiki Iwatani, Yeung Lin On, Camilla Berner, Wai Yi-Lai, Åsa Sonjasdotter, and Karin Lorentzen.
Exhibition runs July 1 to September 24. For more information head here.