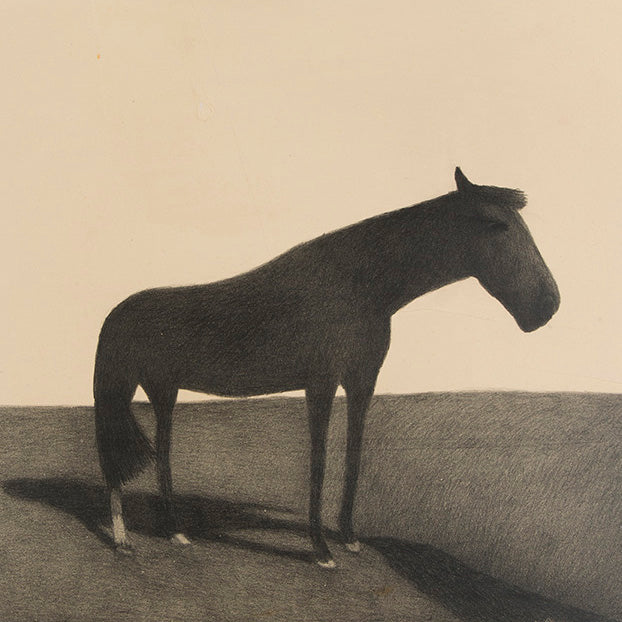 Hugo Michell Gallery invites you to the opening of The Sunshine Suite featuring Jon Campbell, Nadine Christensen, Tony Garifalakis, Richard Lewer, Rob McHaffie, and Fiona McMonagle, and Creature Collection, featuring Yarrenyty Arltere artists, on Thursday, April 5 from 6pm!
Six Melbourne artists show new lithographs in The Sunshine Suite exhibiting concurrently at Hugo Michell Gallery, Adelaide, and Darren Knight Gallery, Sydney. Organiser Jon Campbell has brought together fellow artists and friends Nadine Christensen, Tony Garifalakis, Richard Lewer, Rob McHaffie, and Fiona McMonagle for this project.
This is the first time any of the artists have worked in the medium of lithography. Their practices are diverse, but usually involve drawing, painting, or making three-dimensional objects in individual studios. The printmaking process is different in that it is often collaborative. Artists use lithographic crayon to make an original image on a metal plate or slab of limestone, which is then chemically fixed, inked, printed, and editioned by an experienced or 'master' printmaker – in this instance, Adrian Kellett of Sunshine Editions.  Kellet also encouraged the artists to experiment with spray paint on acetate, acrylic paint, and ink on acetate, paper stencils, and transparent inks that further extended the possibilities of lithography, and produced new and exciting outcomes.
Rob McHaffie reflects on the process:
Drawing directly on the lithograph plate was a refreshing experience. You can't rub out mistakes so once a line is down there's no turning back. The texture of the plate means that the litho crayons move slow and steady across the plate so for me it was an awakening experience. After completing the drawing I wanted to add colour, which meant separating the image into 3 suitable colours, and blocking in those areas on separate plastic sheets that could then be transferred and printed on top of one another. The whole process of transferring the drawing and colours is still a complete mystery that I cannot fathom and is a credit to Adrian Kellett. The final prints pick up every tiny mark that I made during the production of the images.
Kellett has worked as a technician in the printmaking department of the Victorian College of Arts in Melbourne since 1999. In 2012, he undertook a twelve-month training program at the renowned Tamarind Institute at the University New Mexico. During this period of intensive study he decided to focus on collaborative lithographic projects, and to set up a dedicated studio. The result is his newly-established workshop located in the Melbourne suburb of Sunshine.
The exhibition at Hugo Michell Gallery will run from April 6 until May 20, and at Darren Knight Gallery from April 8 until May 13.
_______________
Hugo Michell Gallery presents Creature Collection, featuring Yarrenyty Arltere artists.
When we came back from that long summer break we were so happy to see each other. Some of us had been a long way away, maybe all the way across the ocean. And some of us were lucky to sit down out bush watching the desert turn green, the rivers flow and the air drip thick with humidity. Some of us sat down at home in Alice Springs in our Town Camp, Yarrenyty Arltere. It was quiet some days and noisy other times. It was good but then we got started in our heads to want to have the art room open. We were thinking in our minds of all the things we could make. We were thinking we are ready now to start sewing. To get all those stories and all those ideas from our heads and make them come alive into our hands with the wool and the needles and the blankets. So when we opened the door first for 2017 and switched on that air con and flicked on that kettle and said hello and started making, well everything seemed to just settle down in the right way. We all felt happy and strong welcoming each other back and so all these creatures, this whole collection just came rushing out of us because we had us all back together, in our room, doing what we love so much, sewing up our stories, together.
Please join us in celebrating these two fantastic group exhibitions on April 6!