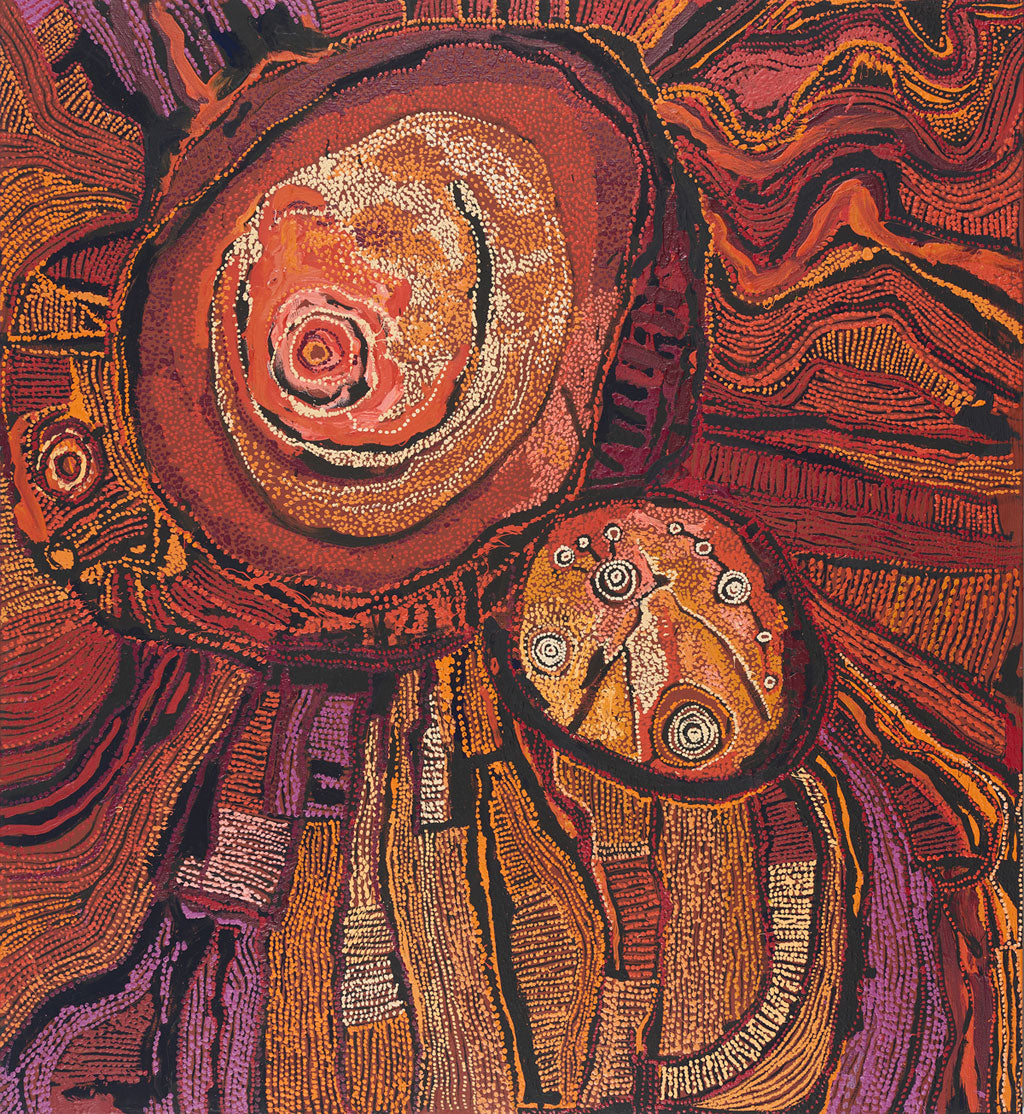 Hugo Michell Gallery invites you to the opening of 'Kungkarangkalpa (Seven Sisters Songline)' by Nyunmiti Burton and 'Strange days indeed' by Marc Etherington on Thursday 25th August, 6-8pm
_____
Nyunmiti Burton
Kungkarangkalpa (Seven Sisters Songline)
Nyunmiti Burton was born in Alice Springs and grew up in Pukatja (Ernabella) where she now lives and works. For this solo exhibition 'Kungkarangkalpa (Seven Sisters Songline)' Burton paints the ancestral story of the Seven Sisters, a significant Tjukurpa that describes the intergenerational strength of Aṉangu women learning from and protecting one another.
"I heard these stories from my father, mother and grandfathers. I think about the future of the country for the next generation." - Nyunmiti Burton
Marc Etherington
Strange days indeed
Marc Etherington's works take pop culture, fantastical imagined scenarios and scenes of everyday life as his subject matter, rendering them through a darkly humorous and sometimes absurd lens.
About his latest body of work, Marc shares: "I am living in a small town in Alberta where it's not uncommon to see somebody wearing a cowboy hat, cowboy boots or a big shiny belt buckle. Also dinosaur bones are found sometimes down by the river. A man found a huge one last year imbedded into the river bank which went to a museum collection. I'm obsessed with finding my own dinosaur bones. I think maybe these two things have seeped into my subconscious and worked their way into my new paintings."
Please join us in celebrating the launch of these two exhibitions!
Nyunmiti Burton, Untitled (235-22AS), 2022, 
acrylic on linen, 200 x 300 cm
Marc Etherington's 'Strange Days Indeed' at Hugo Michell Gallery, 2022
Hugo Michell Gallery are proud to partner with Bird in Hand Winery for this opening event.
Hugo Michell Gallery acknowledges the Kaurna people as the traditional custodians of the Adelaide region, and that their cultural and heritage beliefs are still as important to the living Kaurna people today.