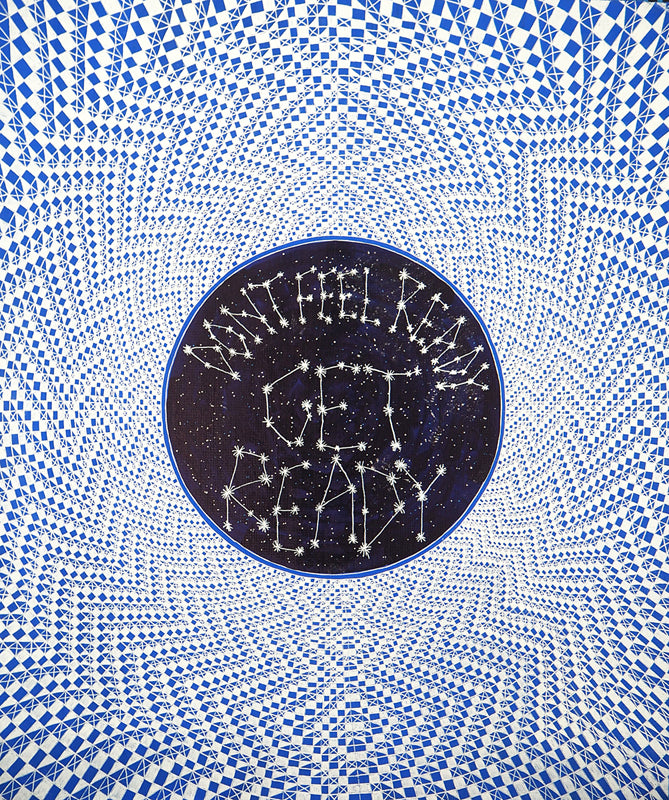 Hugo Michell Gallery invites you to the opening of Lucas Grogan's Thoughts & Prayers, and South, North to Indented Head featuring Tia Ansell, Matt Arbuckle, and Gabriel Curtin, curated by Richard Lewer, on Wednesday, May 24 from 6pm!
Lucas Grogan manipulates a controlled palette, pairing an expert use of line and pattern with an acerbic wit. His pithy phrases and vignettes of everyday life make acute observations and connections across a broad spectrum of experiences.
Grogan's work is held in the collections of the National Gallery of Australia, Artbank, Deutsche Bank, Wesfarmers, Newcastle Region Art Gallery, Ararat Regional Art Gallery, the Art Gallery of Ballarat, and private collections nationally and internationally. He has been widely commissioned for public murals both nationally and internationally.
—
South, North to Indented Head, curated by Richard Lewer features three Melbourne-based painters, all born internationally (NZ & UK). Working predominantly in painting and weaving, Tia Ansell's practice is bound to the idealised nature of techniques of a craftsman and focuses on knowledge gained through touch and movement – the intimate connection between hand and head. For Matt Arbuckle the qualities of a found object present stimulus for creative expansion; a textured ground, a scuffed scrawl or a folded spine elicits a responsive gesture. Presenting a medley of imagery and textures, Gabriel Curtin constructs an arena where new and familiar thoughts coexist.
Please join us in celebrating these the launch of these two exhibitions on Wednesday, May 24!