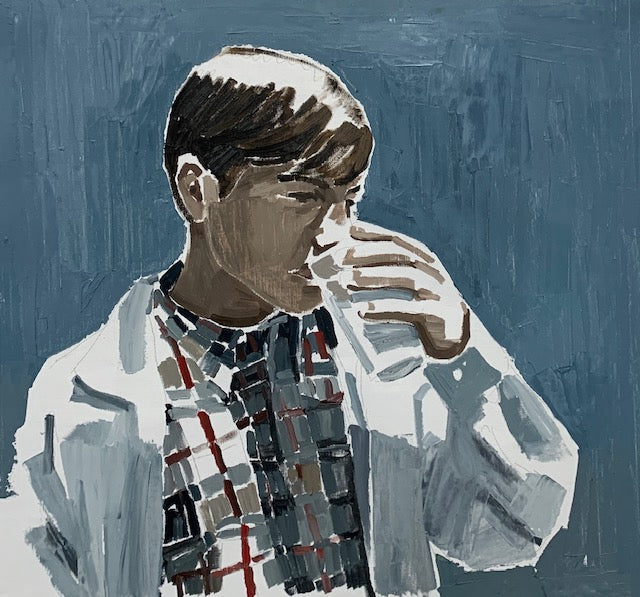 Hugo Michell Gallery invites you to the opening of 'One Eye Open' by Clara Adolphs and 'Clouded' by Laura Wills.
*Please note*
-If you wish to join us for the opening of these exhibitions, RSVP is essential to mail@hugomichellgallery.com
-Guests for the exhibition opening are required to wear a mask.
___
'One Eye Open' by Clara Adolphs draws upon the artists vast archive of collected photographs, recontextualising the individuals who populate them. The works are filled with solitary figures and quiet, pensive moments; moments that seem to slip away as suddenly as the paint has been applied to the canvas. Working quickly and with purpose, Adolphs allows the paint to take on a life of its own.
___
An exploration of place, 'Clouded' by Laura Wills has been informed by a residency undertaken in Emu Bay, Kangaroo Island. As a landscape only recently devastated by bushfires, Wills observed the epicormic growth of trees and plants – previously dormant fauna activated by smoke. Her drawings speak of her own perceptions; looking at seeds, trees, leaves, soil, all changing with time, season, and fire.
___
Exhibition runs from: 2 September – 2 October
Official Exhibition opening: Thursday 2 September 6-8pm



Hugo Michell Gallery acknowledges the Kaurna people as the traditional custodians of the Adelaide region, and that their cultural and heritage beliefs are still as important to the living Kaurna people today.